As the old adage goes, "to finish first, you must first finish.". When it comes to the 2013 AMA Superbike Championship, a young Josh Herrin played that to perfection. At the time, Herrin's factory Yamaha teammate Josh Hayes had won three straight AMA Superbike titles. In turn, he was more experienced, and he was faster. The 2013 title was Hayes' for the taking. After all, he won eight races. But there were hiccups in Hayes' season, including two non-finishes at Daytona and a jump start/non-jump start issue at New Jersey Motorsports Park. Whatever Hayes' issues, Herrin was there to capitalize and when the season ended, he was the champion with 345 points to Hayes' 330.
"To get this is crazy," Herrin said at Laguna Seca the day he won the title. "Even this year, I didn't think it was going to happen. Until the very end, I just didn't think it was going to happen so to get it is a crazy feeling and I'm real excited."
That Herrin became an AMA Superbike Champion was not much of a surprise, considering the success he had when he came into professional racing at the age of 16. He earned a top-10 finish in his first AMA Supersport race and was on the podium in his second outing.
"When I think of 2006, my rookie year, to me that was the good days," Herrin recalls. "I just remember being a kid. 2006 was a unique year because I turned 16, which was the eligible riding age in AMA midway through the season. So, we started out racing some WERA stuff. It was crazy because the guy I beat at the time was Robert Jensen, and he was getting on AMA podiums. So, it was super cool to me to be able to race with him. Not only to race with him, but to be able to beat him was a huge accomplishment. So, I went into that year with this huge wave of confidence. It was a year where me and my dad just did the racing ourselves, but Yamaha helped us out. Graves helped us out a lot. We were able to get on the AMA podium. I think you said it was the first race, but it was actually the second race. It was at Utah. So, we were getting support from Graves, but we were basically running out of our own trailer and doing our own stuff. My dad was my mechanic. I only had one mechanic, that was him. Second round we got on the podium. This is when I think there were at least 12 guys in that class that had won top-tier national races. The guy that finished 10th was probably Ben Attard or Damon Buckmaster. Probably not 10th, but somewhere close to that area. To me, that was crazy. When I first started, it was such a different scene than it is now. I look back at it all the time. It feels like it was yesterday, but I'm one of the oldest guys in the paddock now. So, it's pretty crazy to think about. Really from that point until I won the Superbike Championship, is almost like a blur to me."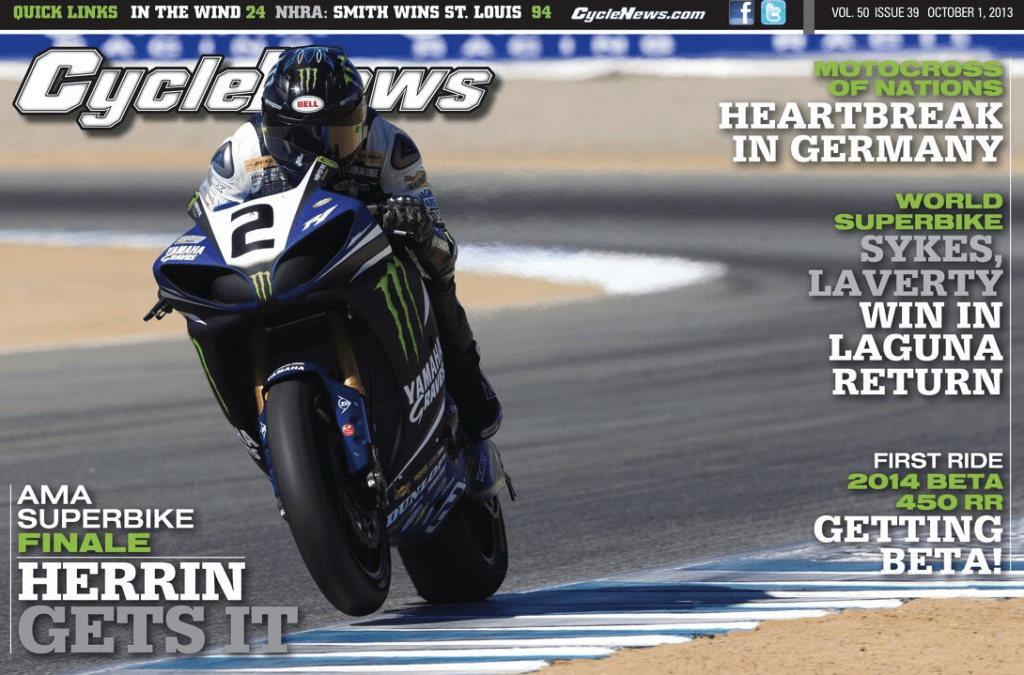 Although he was successful straight away, the championships on 600s didn't come as expected. In fact, Herrin never got a Supersport or Daytona SportBike title, despite coming close on several occasions.
"I remember a lot of it, but it was also a lot of painful years of getting second in the 600 championships, battling with Danny Eslick and Martin Cardenas and a bunch of super-fast guys," Herrin said. "I think I got second from '07 to '11. I think I got second three or four times. So, it was hard, but it was a lot of fun. The R6 has always been such a great bike for me. I had so much fun racing it. Danny Eslick taught me so much about being aggressive that I've been able to use my whole career. I think we were so mad at each other so many times, but we had so many great battles on the track. I know you remember the famous Barber 2010, I think, when my dad cussed him out after he took me out. He was doing a live interview on the Speed Channel and he said something back to my dad really bad and you were like, 'Yeah, we're live, Danny.' It was just a lot of moments that right in the moment I was so angry, but when I look back on it, it was so good for me to really get beat up like that. It made me stronger, and I had so much fun in the races. One of my favorite things to do back then was just sit in second and follow all the time. It's funny because everybody was so negative about that riding style. I'd sit in second for almost the whole race and then the very last corner of the last lap I would just pounce and win the race. Some people thought it was a bad way to race, but now that's what they kind of want me to do. So, it's weird how stuff has changed so much.
"Those years were great. I was factory Yamaha, basically. Graves Yamaha on the R6, but that was the factory Yamaha team for 600 from 2007 to 2011. Then I ended up going to the official factory Yamaha team in 2012 on the Superbikes. I think I was 21. It was pretty crazy going from a bike that at the time, we had very limited data on. It was basically just mapping and looking at stuff, but we weren't able to adjust a whole ton of stuff. I just remember the jump being so big, going to a bike that weighed that much more. I think I went into that Superbike year in 2012 when we started testing it, probably 135 pounds or something and by the time we started I was like between 145 and 150 pounds just because riding that thing took so much effort. It wasn't that I was going to the gym. I was riding bicycles a lot. It was just riding that huge bike with that much power was a lot harder. So, I remember gaining a lot of weight. That year was cool because 2012 I won Rookie of the Year, and that was to me a really cool accomplishment."
The 2012 season was a learning year for Herrin on the Superbike, but he still managed to end up fourth and just seven points behind Roger Hayden in third.
"I should have had third that year, I think right ahead of Roger (Hayden), but I missed NOLA," Herrin said. "It was the one and only year we raced at New Orleans, and I missed it because I had broken my collarbone riding flat track or something. That was pretty disappointing. I really wanted to get top three in the championship that year, but it was cool either way just to wrap that up."
Then came 2013 and Herrin's unexpected AMA Superbike Championship.
"I remember the start of the year was super good but super bad, because we won, I think, the first race," Herrin said. "So, Daytona was round one. We won the first race. Hayes had a mechanical. (Martin) Cardenas finished second. I think Blake Young was there that year, also. Then the second race of the weekend… I just remember the first race I got arm pump really bad, but I was able to barely hold on to the end. Cardenas caught four seconds or something and almost got me. Race two, I think Hayes had another clutch issue or something. So, he DNF'd the first two rounds. I was leading the race and got arm pump really bad again, but it was worse than the first day. Cardenas caught me and passed me. So, it was like a super good way to start the year, but I had to go right away to Dr. Bryan and get arm-pump surgery. That was the first time I had ever had it, so I was really nervous for the second round, but I was able to bounce back pretty well.

"That whole year was a lot of weird mistakes from Josh Hayes. A lot of weird jump starts. I think at Daytona he had the two mechanicals, and then there was the most jump starts I've ever seen in my life, which was really strange. I don't even know what the technical rule is right now with MotoAmerica but jump starts to me have always been so lame because it should just be a three-second penalty or something. I guess back then it was just a time penalty. It was like three seconds. I remember winning at Mid-Ohio. I came in second. Technically crossed the line in second, but there was a time penalty on Hayes, so I won the race. But I was in the middle of a live interview on CBS with Danielle Teal, or something. She's like, 'What do you think? You won the race? What's going through your mind right now?' I'm like, 'Wait, what? I won the race? What are you talking about?' I had gotten all the way to the podium, done the cool-off lap, got to the podium, talked to my crew for a second, got to the interview and nobody had told me I won the race. It was such a weird feeling that year when Hayes would get those penalties and the whole Yamaha crew. I just remember that. That's part of the reason why I felt like I didn't deserve a lot of the stuff that I got that year – the wins, the championship. The feeling in the Yamaha crew was really weird, because they were pissed off about what was going on I think with Hayes, but then at the same time you've got to think, you've got a Yamaha guy that's still going to win the championship if something happens to him, because we were battling.
"I had some close races with him that year, but I struggled a lot at the end of the races that year, I remember. I would have some really strong fights at the beginning with him, but he was so fast on that bike. That was the pre-2015 model bike, so it was the dual exhaust and the tailpiece R1. He'll say it. He loved that thing. He liked it more than the newer model. But I just remember that whole year was so hard because I wanted to just get a legit win. I don't feel like I ever really got it. It's hard. I've always been hard on myself like that, but I also feel like that's part of it. Mentally, you need to get those real wins in order to have the confidence to keep going strong. It just so happened that a lot of those wins that year were because he made mistakes, which you can also boil down to maybe he was nervous or maybe he was focused too much on getting the holeshot, so he didn't have to deal with me at the beginning of the race, but as a racer you always want that win. It was a tough year, but at the end of the year, like you said, I won the championship, and it was one of the best accomplishments of my life. It will always be in the history books. It's something like what you were talking about before the start of the show, that only five people other than me have done in the last 20 years, so it's a cool feeling."
Following an aborted Moto2 season, Herrin has found a home in the MotoAmerica Series. He's won races, won a title and is still going at it in 2021 on the Fresh N' Lean Attack Performance Yamaha team. If you judge a rider's popularity by his social media numbers, then Herrin is the fan favorite. So how did that come about?
"I don't know if you've ever seen the movie Tin Cup," Herrin said. "I think of myself as that guy in that golf tournament. He was in the U.S. Open and he had the chance to
win the U.S. Open. All he had to do to win the U.S. Open was lay it up before the pond, and then chip it over the pond, and putt it in for par and he would have won the U.S. Open. His caddy and everybody around him were telling him, 'Just lay it up.' He's always been known as this guy that wanted to just go for it. He said, 'No. Screw you. Give me the three wood.' He tried to make it over, and he missed. Then he still had a big enough lead that he could have taken that stroke, dropped it on the other side of the pond and still won the U.S. Open. But he said, 'No, give me the three wood.' He tried to hit it over again and missed. He ended up taking 12 strokes on that final hole, which I don't know if that's a true story. I know it's based off of a true story. Twelve strokes on the final hole of the U.S. Open. Whenever he got that, though, the last stroke, he got it right into the hole. That last hit, the crowd just went wild. They didn't give a sh*& about who won the U.S. Open that year. They cared about this guy because he put on a show. I was like watching this movie and I'm like, 'has this been me my whole life? Have I just been this guy that wants to just be putting on a show for everybody so bad that I've missed opportunities to do better in racing?' I think sometimes I have been, and most of the time I haven't been. On my mind all the time I want to win, but there's been those times where people are like, 'Why are you passing so early in the race like that?' Or, 'Why are you doing this?' It just fuels my fire. Something about that moment when you can actually hear the crowd over the motorcycles at the races because you make a cool pass at turn 10A and B at Road Atlanta, or something.
"There's nothing more exciting, anything that gets your adrenaline going that much when you can hear that. I've always just loved being that guy. It wasn't an attention thing. It's just I want to be somebody that's remembered for something awesome. Not 'Oh, you won a championship.' That's awesome, but only the diehards remember that stuff. The people that come to the races for the first time don't have a clue who you are, but when you can make an impact on them to make them come back to another race the next year, that's where the real money is made or the real fans are made because those people will be diehards for you for the rest of their life, and then their kids' life. I'd say 30 percent of the people who go to the races are the ones who think about the guy who won the last race, especially when you have years like this year where we're all just getting our asses kicked by (Jake) Gagne. They want a different show other than who's winning the races all the time."
Herrin knows what's important to him. It's not money, it's not fame. It's just being a talented motorcycle racer who people seem to like.
"It's the same thing with saving money," Herrin said. "Why are you saving all this money your whole life? You're going to die. You could die next year, and then there was nothing to show for it because all you did was work so hard to make the money and you never enjoyed it. So, I had this factory Superbike ride my entire childhood. I'm 31 years old now and I'm still on a factory team, racing arguably $100,000-$150,000 motorcycles and getting paid to do it. I am lucky enough that I walk into a Lowes and somebody says, 'Hey, Josh!' I'm like, 'whoa.' It's the coolest feeling ever. And to me, it is. Like you said, all those years racing for factory teams, I'm not saying I could have won more championships because anybody could say that, but if I look back and I'm 60 years old and I'm talking to my family. They're going to be bored when I say, 'I won all these races.' But if I can remember these stories and show them video tapes…
So, where do we find you in life now? We know you're racing currently, but what does life have in store for Josh Herrin in the immediate future?
"To me, my whole life has changed in the last three years," Herrin said. "I met Rachel, who is now my wife. As soon as we got married, two months later we were pregnant, which we didn't find out until five months later. I don't know when this video is coming out, but as we're talking right now, Rachel is literally doing this on the yoga ball every day, just trying to get the baby to come out before we go to the New Jersey race because, no matter what, I'm not missing the last two rounds. But we want to get the baby out before I leave obviously, because I don't want to have a situation where I'm at the race and my baby is born. That would just be a bummer. So right now, the main focus is me getting back from having COVID. I had COVID not so long ago and it's taken a lot out of me. Worse than anybody I've talked to that's had it.
"Trying to get everything ready for the baby. So, we've been just setting up the baby room and getting everything ready for baby. Just having fun. It's a whole new chapter of my life that a lot of people have told me about, but I just was like, 'how could it change you that much?' The baby is not even here yet and I have so much more respect for Rachel and for my mom and Rachel's mom and all the moms out there. Really no matter how much support we try to give our wives during pregnancy, it's nothing. We can't help. They're just sitting there in pain, and I feel helpless because I can't really do anything besides massage her or get her some food or something. It's been a crazy feeling. Now that he's literally any day away from being here, it's nuts. Literally when I say any day, the doctor said four days ago she thought he would come the next day.
"Last night we went to a Dodgers game. It was Dodgers versus Braves. I train with Freddy Freeman, who was the MVP of the league last year. So, we went to go to a Dodgers game, which I've been a lifelong Dodgers fan, but Freddy Freeman plays for the Braves, and we got tickets from Freddy Freeman. I told Rachel. The doctor said we shouldn't go. It's an hour away from where we live. I was like, 'we got to go. Dodgers versus Braves, Freeman gave us tickets… We got to go.' She's like, 'Yeah, you're right. We got to go.' We went last night, and I was like, kind of a cool story if Griffin was born during a Dodgers game. It would be kind of neat. Luckily, nothing happened. She was fine and we made it back home. But that's the excitement in our lives right now is just the baby coming and getting to experience cool things. We started a tradition last night, his first Dodgers game. I consider it. He's not born yet, but he's moving around in the belly and knows what's going on. So, we're going to buy a baseball at each game and write down what the score was and what the date was, so he has a wall of balls by the time he's 10, 15 years old. It's just cool stuff like that that's just cheering you up so much. This year has been hard, but having all this going on right now, and it's so much more real than it was a couple months ago. It's just exciting and makes me pumped to go and race and just try and get a win and bring home some trophies for the baby's room."