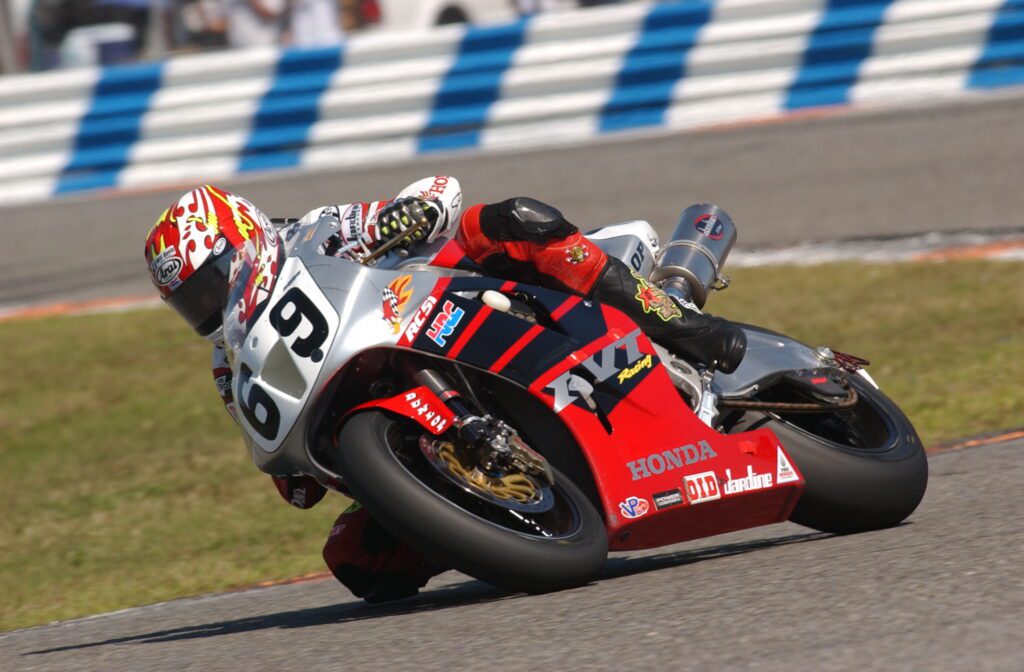 With the news that MotoAmerica is headed to Daytona International Speedway in March of 2022 for the Daytona 200, we decided the perfect way to build excitement for the event would be to start digging through the history books and memory banks. Since Paul Carruthers is literally as old as the Speedway itself and covered almost 30 Daytona 200s as a journalist while working at Cycle News, it was a no-brainer that it would be him who would take on the task of trying to recall the good and the bad. And since we are the home of the AMA Superbike Series, we figured we'd have him start his look back with the 1985 Daytona 200 – the first of the 200s to feature Superbikes – and go from there. This week, we focus on the 2002 and 2003 Daytona 200s.
2002 Winner: Nicky Hayden, Honda RC51
Twenty-year-old Nicky Hayden showed wisdom beyond his years to win the 61st running of the Daytona 200. Daytona 200s are won by racers canny enough to save not only their tires, but their motorcycles – doing so while maintaining a pace fast enough to keep them in front. Hayden did all of that in taking his first victory in the one race he'd dreamed about winning since his childhood.
"This is amazing," Hayden said after his victory. "Growing up as a kid this is what I dreamed about. I went to bed thinking about the Daytona 200. To win it is just an incredible feeling and I just want to thank my team."
The Turning Point: The Honda RC51 was the dominant motorcycle during Bike Week at Daytona in 2002, but pundits thought they'd either break down or destroy their tires. That proved to be true, to a point. Miguel Duhamel's RC51 suffered an engine failure and Kurtis Roberts disintegrated his rear tire. But Hayden's had no such issue as it ran strong to the finish, and he did what he had to do to ensure that his tires did likewise. And that proved to be the turning point.
Newsworthy: Second place in the Daytona 200 went to Blimpie's Yoshimura Suzuki's Jamie Hacking after he ran down and beat Yamaha's Anthony Gobert on the final run to the flag for his best-ever finish in the 200.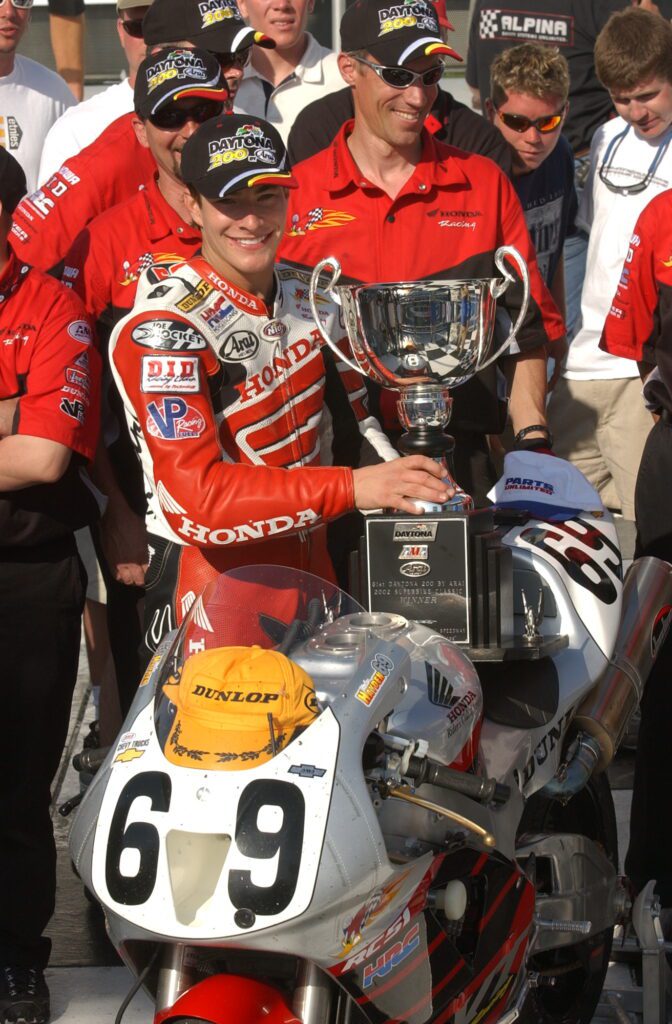 Gobert's third was also a career best at a racetrack that had been less than kind to the Australian. Gobert had suffered a shoulder injury (according to team manager Keith McCarty, the injury wasn't to Gobert's collarbone) in a horrific crash in the Supersport race, but he showed that he was still the one rider who could come close to running with the factory Hondas. The Supersport crash was a big one and included Gobert's younger brother, Aaron, was left in serious condition with a broken tibia and fibula, a broken ankle, two broken vertebrae and head injuries.
Mat Mladin was a non-starter in the Daytona 200 after getting highsided from his Yoshimura Suzuki on Friday. Mladin underwent surgery on his left elbow on Friday night and attempted to ride during Sunday's morning warm-up session but was only able to complete a single lap before pulling in and announcing that he wouldn't be able to race.
Five-time Daytona 200 winner Scott Russell was at Daytona but not to ride. Fittingly, Mr. Daytona came to the Speedway to announce his retirement from the sport. "Right now, I'm retiring because of the injuries I got here last year," Russell said. "It's not going to allow me to ride the way I need to ride at the level I was riding before – so my career is over. It started and then kind of ended here at Daytona, which is good."
Kurtis Roberts became the first rider to crack the 1:48 barrier at Daytona International Speedway when he clicked off a 1:47.865 on Thursday afternoon. Then he went out and bettered that lap with a 1:47.527. An hour or so later, Nicky Hayden snatched the lap record and pole position from Roberts with a lap of 1:47.174 (119.581 mph).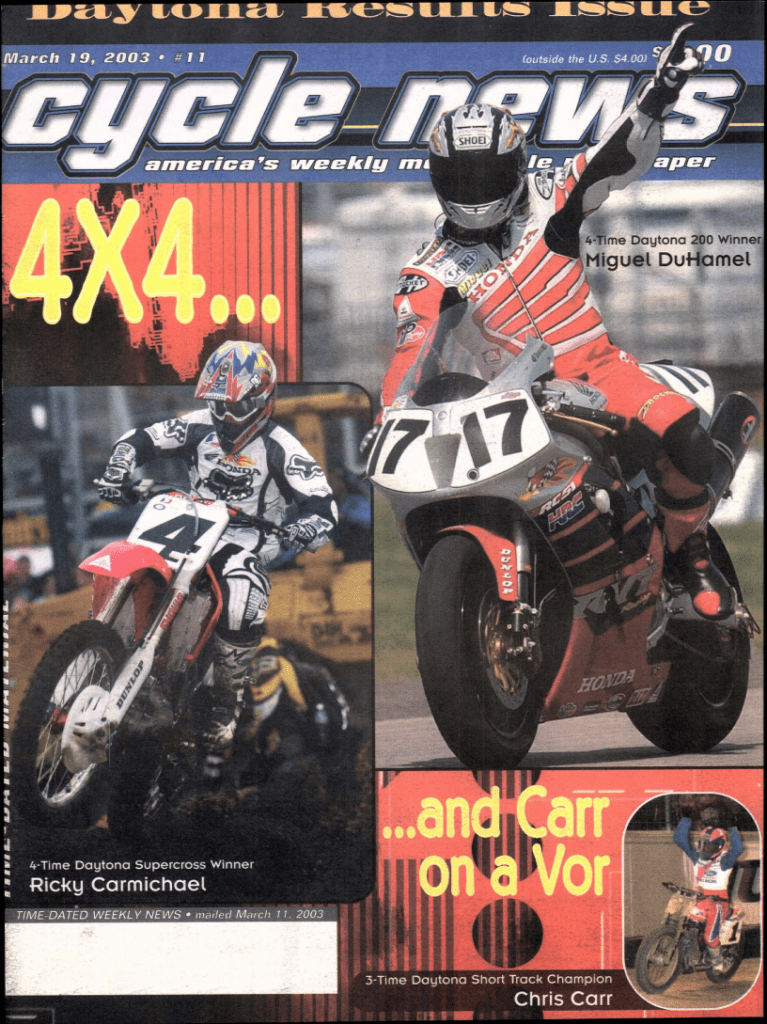 At the time of his victory in 2002, 20-year-old Hayden became the second-youngest rider to ever win the Daytona 200 at Daytona International Speedway. The youngest? Venezuelan Johnny Cecotto, who won the race in 1976 at the age of 19. Meanwhile, Brad Andres was just 18 years old when he won the Daytona 200 in 1955 on the old beach course.
2003
Winner: Miguel Duhamel, Honda RC51
American Honda's Miguel Duhamel won his fourth Daytona 200 and his second on a Monday as the French Canadian won the weather-delayed 62nd running of the 200-miler in an absolute thriller.
The Turning Point: The outcome of many Daytona 200s had come down to a drafting war between two riders from the chicane to the start-finish line on the tri-oval. This one culminated in a three-rider battle to the line with the cagey Duhamel making it all work to his advantage. It was Duhamel's teammate Ben Bostrom who led out of the chicane with Erion Honda's Kurtis Roberts second. Behind them sat Duhamel, who couldn't refrain from sporting an ear-to-ear smile. Duhamel quickly disposed of Roberts and then on the run to the line he caught Bostrom's draft and the draft from a lapped rider to split the two and beat Bostrom to the line by .069 of a second.
Newsworthy: Duhamel led a Honda RC51 one-two-three finish in the Daytona 200 with Honda sweeping Victory Lane for the second time. The first for Honda was in 1985 when Freddie Spencer bested fellow Honda riders Wes Cooley and Jeff Haney.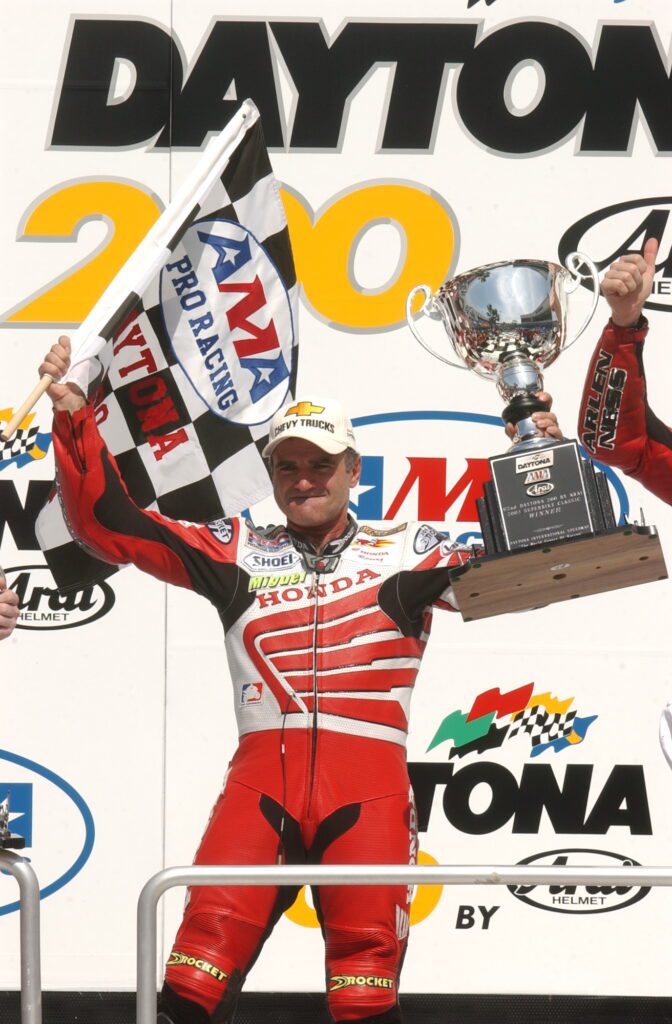 The highest-finishing non-Honda rider was Yoshimura Suzuki's Aaron Yates in fourth. Fifth went to Kawasaki's Eric Bostrom with Mat Mladin surviving tire issues to finish sixth on his Yoshimura Suzuki.
Only two Daytona 200s had ever been run on Mondays and Duhamel won them both. With the Mr. Daytona moniker going to five-time winner Scott Russell, many started calling Duhamel the Prince of Daytona. Or Mr. Monday.
Two races were run on Sunday morning at Daytona International Speedway, but the skies opened again just prior to the running of the 200, thus the event was moved to Monday.
American Honda's Ben Bostrom earned pole position for the Daytona 200 with his lap of 1:48.376. That lap time was well off Nicky Hayden's record-setting lap from the year prior, but it came with Dunlop no longer providing qualifying (soft) tires at Daytona.
Miguel Duhamel apologized to his teammates in the post-race press conference. "There is such a thing as a sore loser and there's such a thing as a sore winner," Duhamel said. "I kinda blew a fuse over winning that race and was jumping all over the place… there's a fair bit of luck involved, and these guys were riding so good. Hopefully, I didn't offend my teammates. I was jumping around like a guy on fireworks or something."