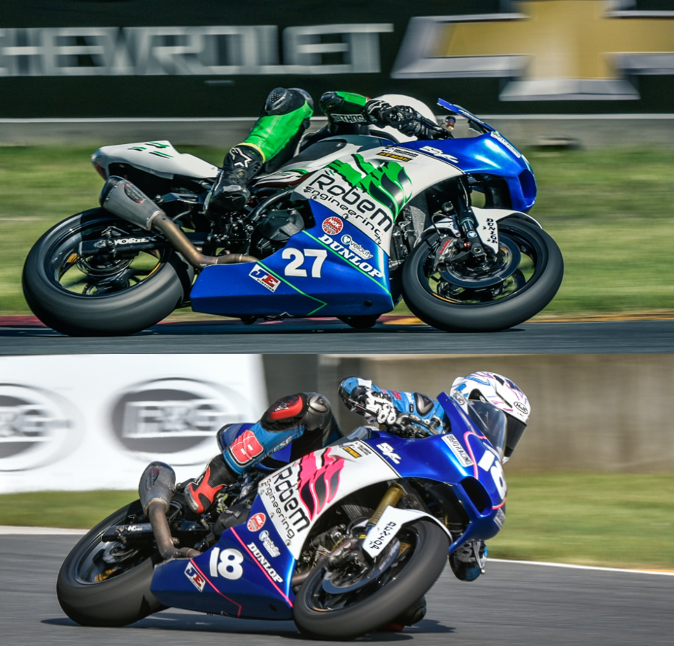 The following is from Robem Engineering…
Jackson Blackmon, Toby Khamsouk, and Carl Price successfully debuted their Robem Engineering MotoAmerica-spec Suzuki SV650's last weekend at the opening round of the 2020 MotoAmerica Twins Cup Championship as the series kicked off at scenic Road America in Elkhart Lake, Wisconsin. The pace was fast all weekend, as expected, and Blackmon's charge to second place on Sunday was highlighted by his setting of a new MotoAmerica Twins Cup lap record in the process.
Blackmon was satisfied but not completely thrilled with his fifth-place finish in race one on Saturday and some strategic changes were made for Sunday's race. A tire-choice gamble paid huge dividends on Sunday as the South Carolinian ran down the leaders halfway through the eight-lap event and the race to the checkered flag was on. Blackmon's plan to take advantage of a double draft on the long run to Road America's start/finish line unfortunately came up just short, and he took second place by a scant 0.081 seconds.
Toby Khamsouk set the pace early, out qualifying his teammate Blackmon by 5/100ths of a second, and he continued to drop his laptimes all weekend.  Khamsouk fought through some mechanical issues to finish seventh in Saturday's race but substantially improved his pace on Sunday as he pushed to a hard-fought sixth-place finish in race two. Blackmon and Khamsouk sit 3rd and 6th, respectively, in the overall points standings and look forward to a rematch as the MotoAmerica series returns to Road America for round 2 on June 26th.
Not to be overshadowed by his younger teammates, plastic surgeon Dr. Carl Price acquainted himself quickly with the easy-to-ride Robem Engineering Suzuki SV650 and dropped over 4 seconds off his personal best laptime set in 2019. While in the mix for championship points all weekend, Dr. Price came up just a few positions short and is more motivated than ever to win some highly coveted MotoAmerica purse money.
Robem Engineering's partners for the 2020 season were instrumental in the performance of the team's Suzuki SV650's over the past weekend, and more improvements are on the horizon. Team sponsors include Millennium Technologies, aRacer USA, Yoshimura R&D, Dymag wheels, Blud Lubricants, Vortex Racing, SBS Brakes, Velocity Calibrations, NGK spark plugs, Chicken Hawk Racing, Web Cam Inc, JE Pistons, RBoM Racing, and CopoulosBuilt.   
Robem Engineering manufactures custom-machined parts for Twins Cup competitors and continues to refine their offerings with race-proven research and development. Robem Engineering is also the distributor of aRacer high-performance ECU's and fuel-management software for MotoAmerica participants.
Visit robemengineering.com and follow Robem Engineering on social media platforms, such as Facebook, for further updates.