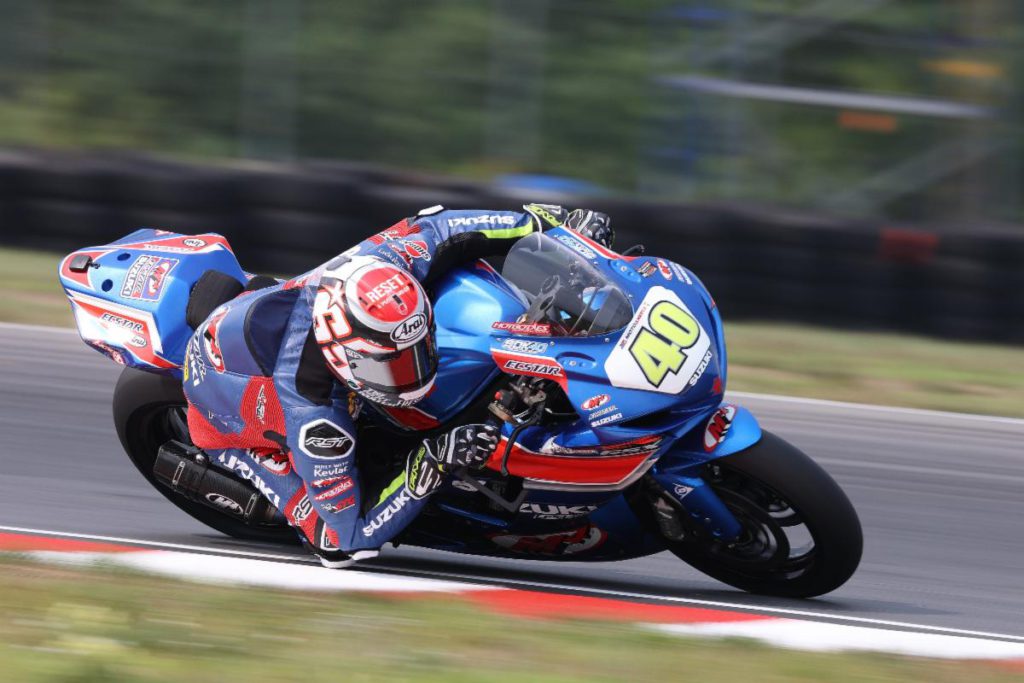 The following is from Team Hammer…
Team Hammer enjoyed a spectacular return to Brainerd International Raceway following a 17-year absence, scoring two wins and four podiums in Saturday's MotoAmerica races with the promise of more coming on Sunday.
The headliner again was M4 ECSTAR Suzuki's Sean Dylan Kelly, who extended his MotoAmerica Supersport win streak to five in another nail-biter.
Yet again, 'SDK' demonstrated his unique ability to keep his opponents corralled close behind him, immediately countered any passing attempts, and kept his nerves all the while by scoring an eighth win of the '21 MotoAmerica AMA/FIM North American Road Racing Championship season by a scant 0.075-second margin.
Kelly managed this despite lacking some of the speed he previously showed aboard his GSX-R600 in the run-up to the race, leaving him hopeful for an even more convincing showing in Race 2.
"Overall, it was good," he said. "We led the entire time, and I tried to be as consistent as I could. It was a tough race. Honestly, I was expecting more. We're going to have to do some studying tonight because our pace has been better than this all weekend. I had a few moments and didn't have the sensation I was expecting. So, I'm expecting more — we're going to do our homework and come back stronger tomorrow.
"We're doing the right things. We just need to keep making steps. Thanks to my whole M4 ECSTAR Suzuki team and all my guys for working so hard and always believing in me."
Kelly was joined on the podium by his rookie teammate, Sam Lochoff. The South African dropped back as far as sixth and once ran off the track in the wake of incidents involving other riders, but still managed to charge his way to a clear third.
The result was the second podium of Lochoff's young MotoAmerica Supersport career.
Lochoff said, "My pace wasn't great, but I was really consistent. I ran off in the Carousel because I thought there was oil on the right side of my tire after a couple guys went down." Lochoff recovered without any damage and saw his fortunes rise throughout the race.
M4 ECSTAR Suzuki's premier-class duo of Bobby Fong and Cameron Petersen were major players in the day's MotoAmerica Superbike contest as well. Petersen stormed to the holeshot aboard his GSX-R1000R and battled for a podium before ultimately finishing fourth.
Californian Fong was even better on the day, matching his best result of the 2021 season taken way back in the opener by pushing the leader with his pace early while powering his way to a hard-earned runner-up result.
Fong said, "It's great to be back up here — I'm so ecstatic. My crew has been working hard all weekend. They've been working hard all year. We've been having a little bit of a bad luck streak, so it's nice to get a good result. I have to figure out a few things on the track, but I already have a pretty good pace. Hopefully, we improve it overnight and go one better tomorrow."
In Stock 1000 action, Jake Lewis ran away with the win on his Team Hammer-built Altus Motorsports Suzuki GSX-R1000R, taking the title lead in the process. The cherry on top was the impressive performance of M4 ECSTAR Suzuki's Wyatt Farris, who earned his best finish of the season by coming home in seventh position.
Team Hammer will be gunning for more glory in Sunday's Superbike and Supersport contests.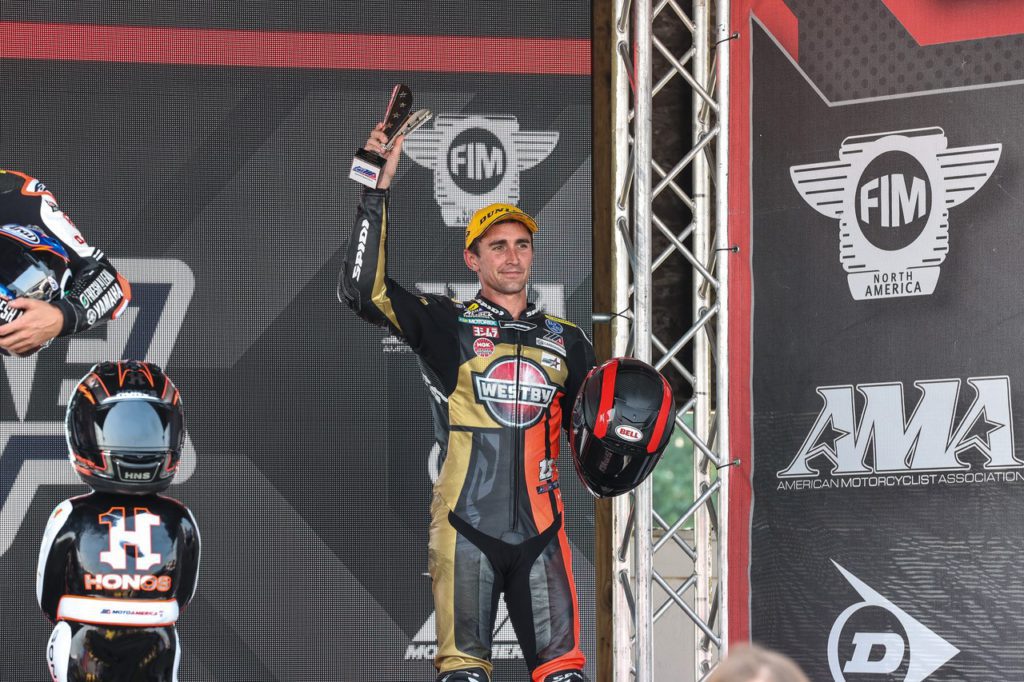 The following is from Westby Racing…
On Saturday of MotoAmerica's first-ever race weekend at Brainerd International Raceway, Westby Racing teammates Mathew Scholtz and Jack Roach competed in their respective races on the fast and technical 2.5-mile road course.
From the outside of the front row, Mathew got off to a good start in the 18-lap race, but Jake Gagne and Loris Baz both crashed on lap two, and the race was red-flagged. On the 15-lap restart, Mathew slotted into second place, but he was overtaken by Bobby Fong, and then he battled for third with Cam Petersen until lap 10 when he secured the final spot on the podium all the way to the checkered flag.
With his third-place result, Mathew maintained second in the championship point standings and will be ready to improve on his result in Sunday's Superbike race two.
"After the red-flagged race was restarted, it was very slippery, and I didn't have any grip on the edge of the tire," said Mathew. "So, I just kind of struggled for the first five or six laps. Once Cam (Petersen) passed me, he's a very, very smooth rider. That kind of helped me fix my lines slightly and focus on that more. I could see that the lap times dropped. Then, maybe with five or six laps to go, I could see Cam started struggling with his grip out of the corners. I put my head down and turned a few quick laps, and I got past him. Then, I tried to focus on catching Bobby (Fong), but I ran out of laps. The arm pump was getting pretty severe. It's something we have to look at for tomorrow's race. Try to make it easier to hold on and not veer so much out of the corners. So, we know what we have to do now. Hopefully, we can get up there and challenge Jake (Gagne) tomorrow."
Ed Sullivan, Westby Racing Crew Chief, said, "I am happy with today's result. We've had good race pace all weekend, so while the first portion of the race didn't play out in our favor, Mathew settled down, rode really well, and showed his pace in the second half of the race. We have some changes to try in morning warm up, and we're looking forward to seeing what we can do in tomorrow's race."
Chuck Giacchetto, Team Manager, added, "Today was a very good day for the team. I feel we are definitely giving Mathew what he needs to succeed, and I very much believe in Mathew's desire to be great. The second half of the season started today, and I'm very excited to see it play out because our team generally makes great strides in the second half of the season. I'd like to personally thank all the fans here at Brainerd. What a great bunch of folks!"
Sunday's Superbike race two is at 3 p.m. CT and will be broadcast via tape delay on FOX Sports 1 (FS1) at 7:30 p.m. CT. In addition, the race will be streamed on MotoAmerica Live+.
In Saturday's Junior Cup race, Jack started from the inside of the third row in seventh, and he moved up to sixth on the opening lap. He dropped back to seventh again on lap two, and then, he was shuffled back to eighth on lap four where he battled among a large group of riders. As a result, he was unable to improve his position for the remainder of the 11-lap race.
Sunday's Junior Cup race two is at 2 p.m. CT and will be streamed on MotoAmerica Live+, as well as broadcast via tape-delay on FS2 this Tuesday, August 3, beginning at 5 p.m. ET.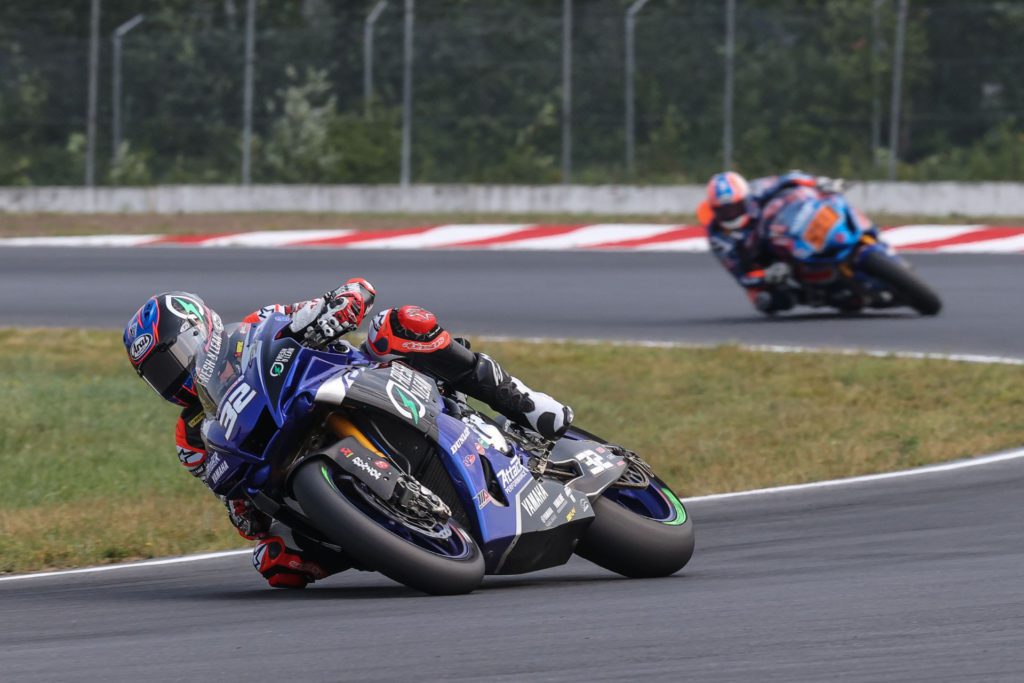 The following is from Yamaha…
Fresh N' Lean Attack Performance Yamaha Racing's Jake Gagne overcame adversity from an early race crash to score his 10th-straight MotoAmerica Superbike victory in today's Race 1 at the Brainerd International Raceway. Fill-in rider JD Beach had a solid first race back on the R1 and finished sixth.
Although the 2.5-mile track in Brainerd, Minnesota, was new territory for this generation of riders with a 17-year absence on the calendar, it was more of the same as Gagne set the pace early. The points leader led every session en route to his sixth-straight pole position of the year, but his 10th victory of the season did not come easy. He got a bit sideways off the line and was second after the start. Gagne quickly moved into the lead but then lost the rear and went down in Turn 3. More chaos ensued with another rider crashing in the next corner, and the race was red-flagged.
After the restart, Gagne once again slotted into second and moved into the lead on the opening lap. The Colorado rider kept his cool and put in some consistent, fast times to build a gap and cross the line with a 4.6-second margin, expanding his lead in the championship to 74 points.
Filling in on short notice for Josh Herrin, who was sidelined with Covid-19, Beach made progress in each session. He and the team worked on getting the bike set up for the Kentucky rider who races full time in the premier class of American Flat Track. After the restart, he got a good start from the third row of the grid to fifth and then was shuffled to sixth. He battled for that top-five spot and kept pushing but ultimately finished sixth in his first Superbike race since the 2019 season finale at Barber Motorsports Park.
The Fresh N' Lean Attack Performance Yamaha Racing Team lines up again tomorrow at the Brainerd International Raceway for Race 2 of Round 6 of the MotoAmerica Superbike Championship on August 1.
Richard Stanboli – Fresh N' Lean Attack Performance Yamaha Racing Team Manager
"The weekend started out unusual with Josh contracting Covid and JD coming in take his place after not racing Superbike for a season and a half. Then Race 1 turned out to be pretty dramatic. Jake had a crash early in the race, and there was a red flag, so we had a quick turnaround to repair the bike, and then he went back out there and got his 10th win of the season. Hats off to him for staying determined and bringing home another first place in tough circumstances.
"JD, with little time on the bike, has systematically improved his pace. Most people would not understand how difficult it is to jump on a bike that they have never ridden and race at a track they have never seen in the middle of the season. His sixth-place finish is not a true indication of his potential. We look forward to both riders racing at the front tomorrow."
Jake Gagne – Fresh N' Lean Attack Performance Yamaha Racing
"That was a crazy one! In the first race, I made a mistake in Turn 3 and spun the rear around. Luckily, I kind of slid under the bike and was able to get it back to pits after the red flag. The team did a fantastic job getting the bike ready to go just in time, and we were able to make it back out there to fight again. I put in some clean first few laps after the restart and was able to bring home another win for this awesome team and machine."
JD Beach – Fresh N' Lean Attack Performance Yamaha Racing
"The first start of the race was just crazy. I was in sixth or seventh coming out of Turn 3 and Gagne was on his butt sliding down the track backwards. Seconds later, I see (Loris) Baz's bike flipping through the air, and (Cam) Peterson almost lost the front. We had a red flag, and things calmed back down. Once we got going again, I felt pretty good and was just off of the front pack. I felt like I was sticking with them a bit, but then I started losing the front tire a few laps in a row, so I backed it down a bit. I just wanted to finish the race, but as the race wore on, I was closing in on (Hector) Barbera for fifth, so I gave it a little extra and came up short. I learned a lot today, and I'm looking forward to tomorrow."