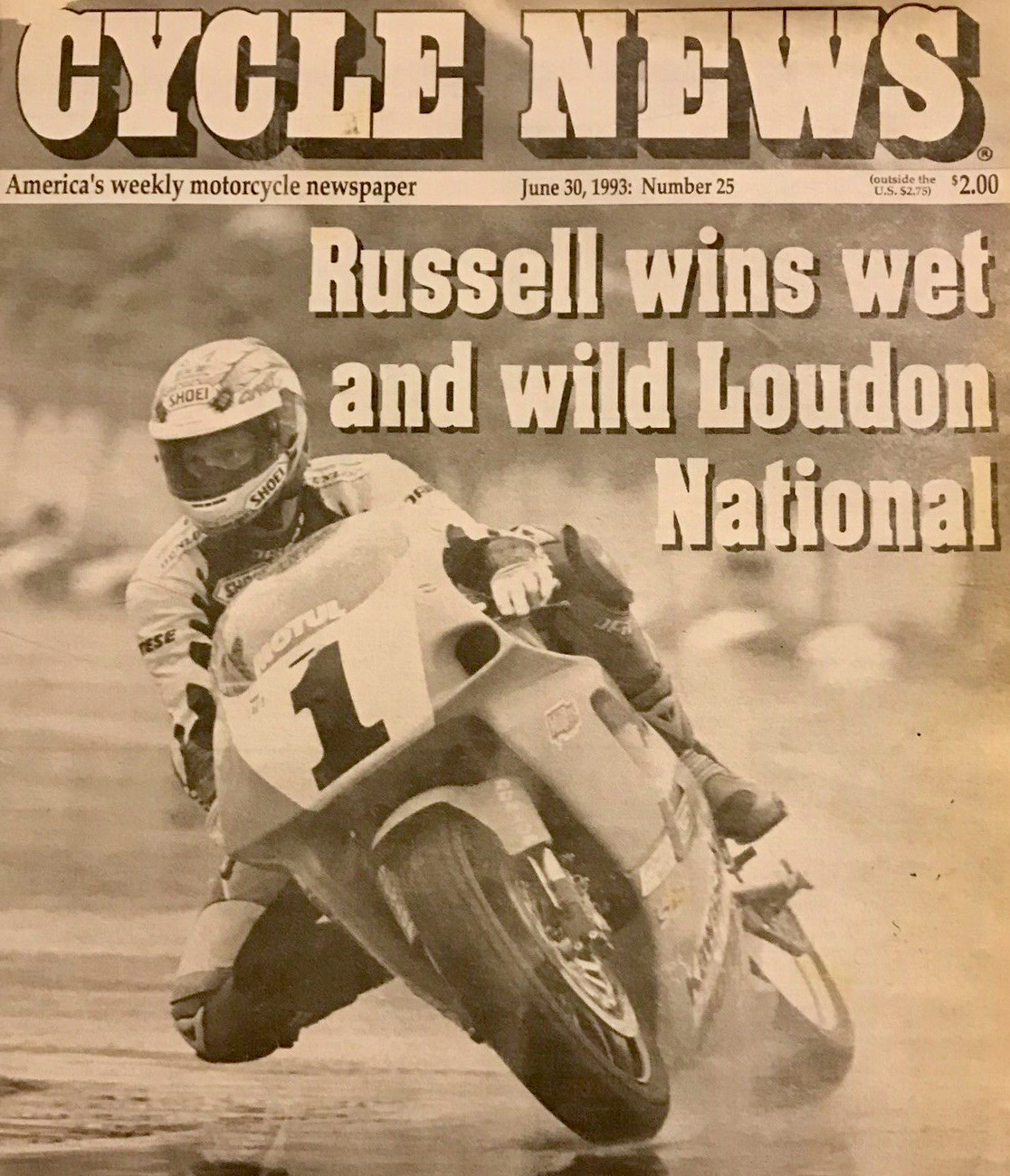 In early 1993, I had been asked by Gary Bahre, then-owner of New Hampshire International Speedway (NHIS), to create the brochure for the 70th Annual Loudon Classic. At that time of the year, and long before the invention of the Internet, I had no idea that Muzzy Kawasaki's Scott Russell would be racing in the 1993 Superbike World Championship, and I assumed that he would be at Loudon to defend his Superbike victory in the 69th Annual Loudon Classic. So, it made sense to feature Russell in the brochure I was working on and to mention that he would be one of the stars racing in 1993's Loudon National.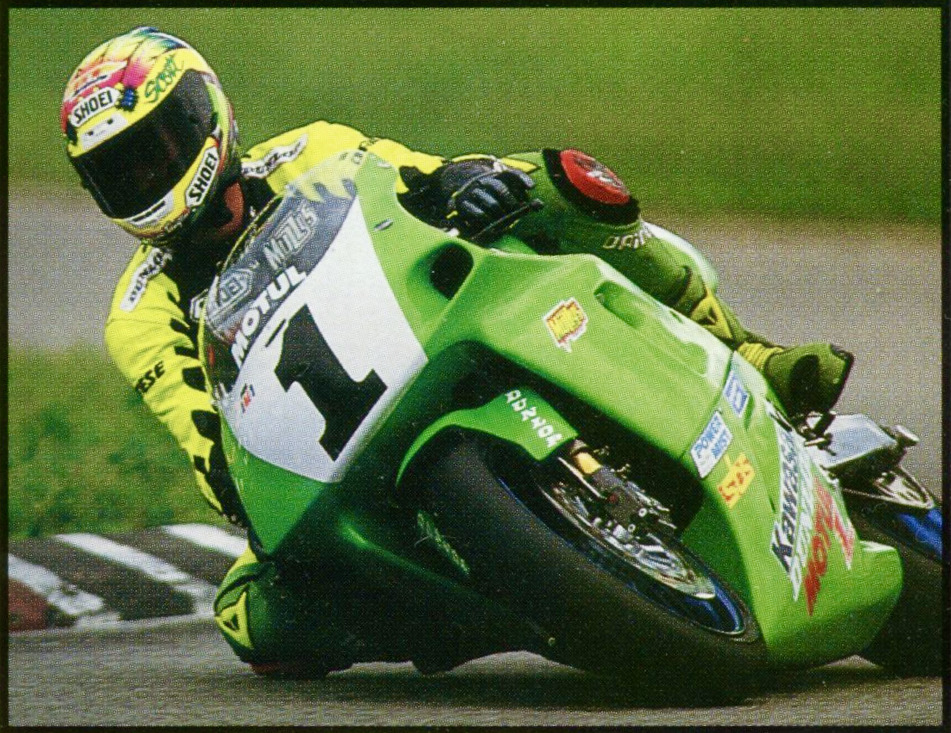 As the calendar drew closer to June, and I found out that Russell was racing in Europe, I became somewhat horrified when I realized that he wouldn't be at Loudon to defend his Superbike win from the year before. I counted on him as defending Loudon Classic Champion to be the main draw for fans to attend the June race.
Loudon was my mecca for motorcycle road racing back then, and NHIS was located just 45 minutes from my house in Raymond, New Hampshire. I attended every Loudon Road Racing Series (LRRS) event at NHIS during that era, and the Loudon Classic was an annual highlight for me for about a decade. In fact, every year, it used to be tradition for me to call my father back home in Northern New York from one of the track's payphones (no cellphones back then) to wish him a Happy Father's Day. The Loudon Classic was almost always on Father's Day Weekend.
The other thing that was almost always on Father's Day Weekend at NHIS was rain. You could almost count on it, and 1993 was one of the rainiest Loudon Classics I can ever remember.
I always took Friday off from work to attend the Loudon Classic and enjoy the first day of practice for all of the AMA's race classes. My favorite viewing spot was in the small grandstand outside NHIS's turn six, which was more affectionately known as "The Bowl" because it is a steeply banked left-hand turn. That grandstand and that turn provided the perfect place to watch the Superbikes railing around The Bowl before heading further up the hill behind the Speedway oval and ultimately back into the Speedway and onto the front straightaway of the oval where start-finish was located.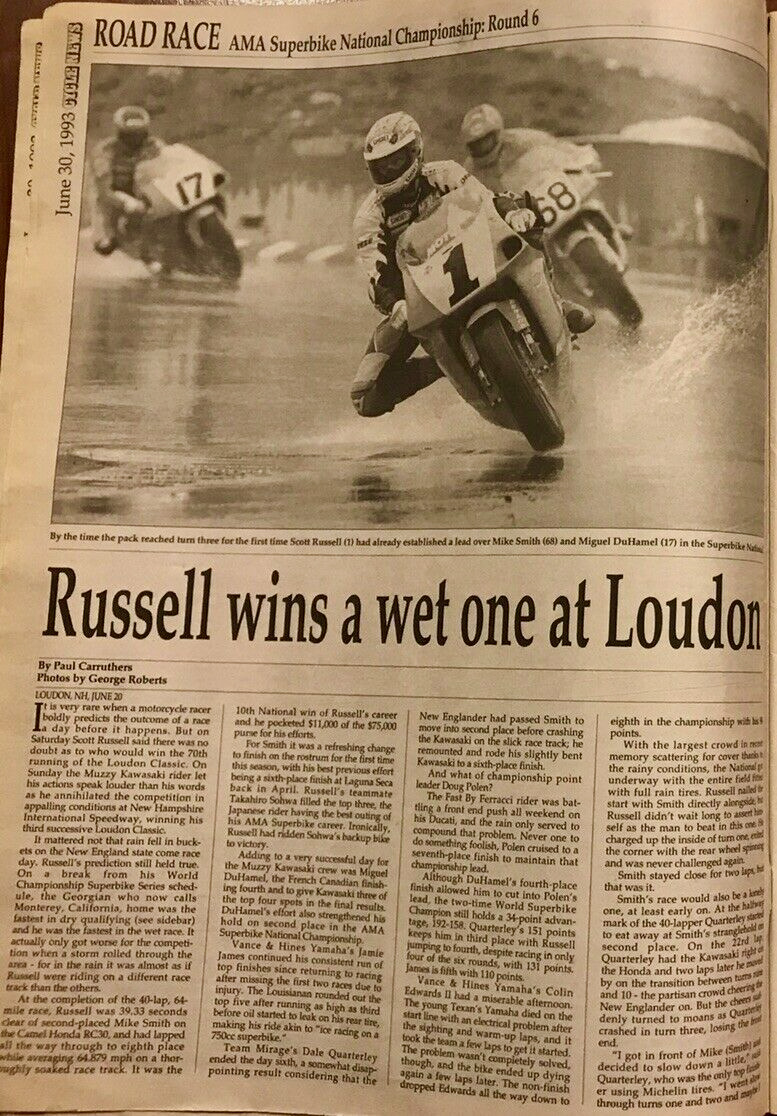 Early on Saturday morning, amidst spotty rain and a damp track, I was in my favorite spot for the beginning of Superbike practice. The bikes started to appear, wheelying over the crest after turn five where they would dive like fighter jets into The Bowl.
Suddenly, there he was. Scott Russell himself. The Screaming Chief Shoei helmet. The yellow "feathers" on the shoulders of his Dainese leathers. That lime-green Kawasaki ZX-7RR with the big number one on it. It was him. He was racing at Loudon. The 1992 Loudon Classic champ had returned to defend his crown.
And, best of all, the brochure that I created for NHIS wasn't false advertising. Everything I wrote about Russell racing in the 70th Annual Loudon Classic was suddenly true. Hallelujah!
Several years later, when I finally met Scott Russell and interviewed him for a Website story that I wrote, I told him about my perspective of the 1993 Loudon Classic, and he gave me the back story on how the whole thing happened.
As it turned out, Russell only raced at three AMA Nationals in 1993. Phoenix in mid-February, the Daytona 200 in early March (after all, he was and is Mr. Daytona), and the Loudon Classic in June.
In fact, Russell wasn't planning to race at Loudon at all. Miguel DuHamel and Takahiro "Tiger" Sohwa were Muzzy Kawasaki's two AMA Superbike riders, and Russell, along with New Zealander Aaron Slight, were Muzzy Kawasaki's two World Superbike riders.
However, after the World Superbike round at Albacete in Spain, Russell and his crew chief Gary Medley noticed that there was a break in the schedule that would enable Russell to race at NHIS and defend his 1992 Loudon Classic win. The logistics wouldn't be easy, and there were a lot of details that had to be figured out—not the least of which was acquiring a Superbike for Russell to race at Loudon—but they were up for the challenge.
Everything came together on the Monday prior to that weekend's Loudon Classic. With Kawasaki's and team owner Rob Muzzy's blessing, Russell and Medley flew from the Kawasaki race shop in Germany to New York City, then took another flight to Manchester, New Hampshire. Flight delays caused Russell to miss all of Friday's practices at Loudon, but on Saturday morning, he was at the track and aboard Tiger Sohwa's backup bike, with Sohwa's competition number 60 stickers removed from the Kawasaki ZX-7RR's fairing and tail section, and replaced with Russell's number one stickers.
From my seat in the grandstand outside The Bowl in turn six early that Saturday morning, it was completely obvious that Russell was circulating NHIS much faster than anyone else. Despite the damp track, he was leaned over further than any other rider through The Bowl and was absolutely hauling ass.
NHIS is a small track and, back then, the Superbikes were doing laps in 1 minute and around 13 seconds. In Saturday's final qualifying, Russell earned the pole position by half a second over second-fastest qualifier Jamie James on the Vance & Hines Yamaha. Going a half-second faster on a track that produced 1:13 laps was a big deal.
On Sunday, race day, it poured down rain harder than I had ever experienced before at NHIS. Scott Russell didn't care. He absolutely nailed the start of the 70th Annual Loudon Classic and left the rest of the field, quite literally, in his wake.
Aboard Tiger Sohwa's backup bike, Russell lapped the field all the way up to eighth place and won the race by nearly 40 seconds over Camel Honda's Mike Smith in second place. It was, and still remains, one of the most dominant Superbike performances I have ever witnessed in person.
After what Scott Russell did at Loudon in 1993, it was absolutely no surprise at all that he also won the 1993 Superbike World Championship and the 1993 Suzuka Eight Hours endurance race.