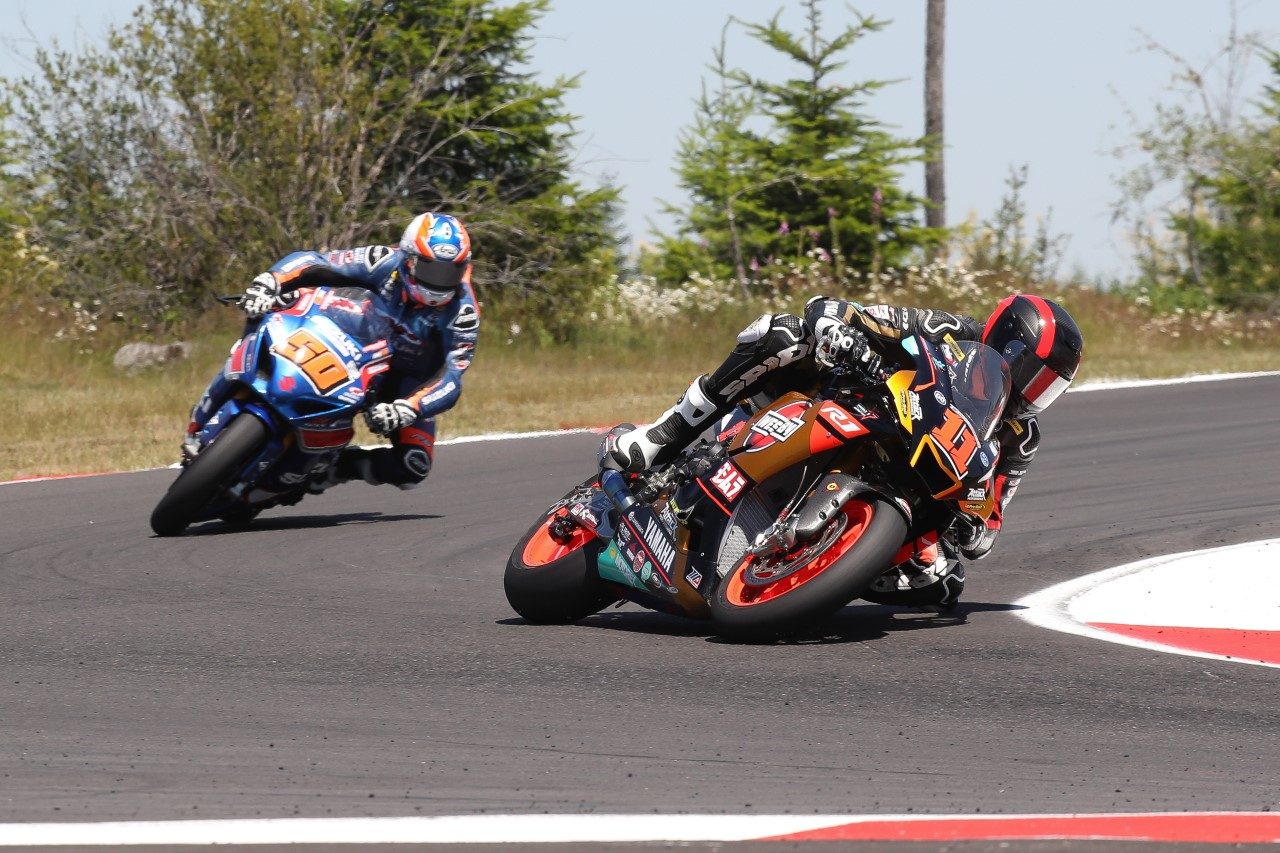 The following is from Westby Racing…
After finishing fifth in Saturday's Superbike race at Ridge Motorsports Park, Westby Racing's Mathew Scholtz improved in Sunday's race with a fourth-place result and maintained his second-place position in the 2021 MotoAmerica Superbike Championship.
Starting in the middle of the second row based on his fifth-place finish in Saturday's race, Mathew got a good jump off the line and moved into fourth place on the opening lap. He got shuffled back to fifth for a few laps in the middle of the race, but he fought hard in the 100-plus-degree air temperatures, moved back up to fourth place, and tenaciously held the position all the way to the checkered flag.
"We made some setup changes from Saturday to Sunday's warmup, and they seemed positive," commented Mathew. "Then, when the race came in the afternoon, it was a lot hotter, and I just seemed to suffer (in the heat) a little bit more than I did yesterday. I brought the bike home in fourth, which was obviously not what we wanted, but it is an improvement from yesterday, so we can take the positives from that.
"We've got our work cut out for us, but I really am looking forward to Laguna Seca. It's always been good to me, and with the help of Niccolò Canepa's setup from last year (when he was a fill-in rider for the team at WeatherTech Raceway Laguna Seca while Mathew recovered from injuries he sustained in a crash the round before at Indianapolis Motor Speedway), moving forward with the bike and understanding what we know now should help us try to run up front and battle for the podium there. I just want to give a big shout-out to the Westby team. It's been difficult lately, but we are all in this together, and we can definitely make our way back up to the top."
Westby Racing's Junior Cup rider Jack Roach's weekend at the racetrack closest to his home in British Columbia, Canada, did not go quite as well as he had hoped, but on the bright side, his Sunday result was an improvement on Saturday. After finishing 12th in Saturday's race, he moved up three positions to finish 9th and inside the top 10 on Sunday. In addition, Jack's results at Ridge moved him up three positions in the 2021 MotoAmerica Junior Cup Championship.
Next up for Westby Racing is round six of the MotoAmerica Championship, which will take place at WeatherTech Raceway Laguna Seca in Monterey, California, on July 9 through 11.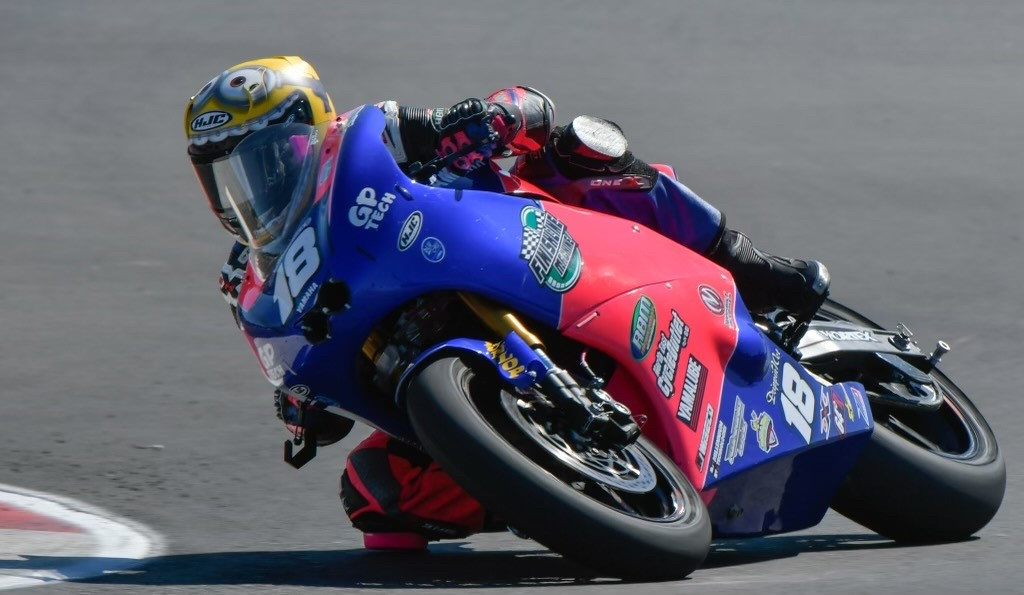 The following is from Jackson Blackmon Racing…
Jackson Blackmon was looking for redemption this past weekend in Washington after his third, 2nd place finish this season. Jackson Blackmon Racing has been trying different setups with their 2021 Yamaha MT-07 every race since VIR. It seemed that the MotoAmerica test day on Thursday was just what Blackmon needed to get even more comfortable on his Yamaha. The pace was fast all weekend, however for JBR they were able to improve every session to have their best qualifying of the year! From his second place starting position, Blackmon, in race one, was able to lead the first lap however it wasn't long before another rider passed him on lap two. In the middle of the race Anthony Mazziotto had got to the front and stretched out a slight gap, however Blackmon would stay within striking distance. Mazziotto's Aprilia would overheat with three laps to go causing him to crash out of the race. This would put Blackmon in a battle for the lead. Blackmon executed the pass on the brakes in turn thirteen the penultimate lap to then take his first Twins Cup victory.
Race 2 would see Blackmon take the lead from the start! The young gun set a blistering the pace that only Mazziotto would be able to match. Blackmon executed the perfect race, marking his first flag to flag victory in Twins Cup leading from start to finish the whole race.
Jackson Blackmon Racing has now had 5 starts and 5 podiums, with two of them being victories and have a lot of momentum rolling into Laguna. Despite Blackmon missing the first round with a broken wrist, he has come back strong putting himself 2nd in the championship standing, just 3 points out of the lead.
Blackmon was quoted as saying, "I was so happy to take my first win and then able to back it up with two in a row. My dad and I have been working so hard on the bike and with the support from Yamaha we have been able to make the machine handle amazing. We have found a happy baseline setup with my MT-07 and I feel that now I can just focus on my riding and racecraft. I would like to say thank you to each and everyone of my and sponsors and supporters for their help this year. Can't wait to carry the momentum to Laguna!" Will we see Blackmon on the new R7 soon? Stay tuned!
JBR would like to thank their sponsors: Yamaha Motor USA, Finishline Machine, North East Cycles, Yamalube, Trackday Winner, GP Tech, Wiseco Pistons, HJC Helmets, Roaring Toyz, Millennium Technologies, OneX, Web Cams, SBS Brakes, Vortex, and 64 Degrees.
Don't miss any of the action. Be sure to follow Jackson on Facebook:@JacksonBlackmon18 and Instagram @JBlackmon_18
Single race sponsorship opportunities are still available for the 2021 season. Contact Jackson at 18@JacksonBlackmonracing.com
The following is from Suzuki…
Suzuki Motor USA and Team Hammer racked up two wins and five podiums as the 2021 MotoAmerica AMA/FIM North American Road Racing Championship completed a scorching weekend of race action at Ridge Motorsports Park in Shelton, Washington.
MotoAmerica Supersport title leader Sean Dylan Kelly and his M4 ECSTAR Suzuki GSX-R600 were more than up to the challenge presented by his competition and the relentless triple-digit temperatures.
'SDK' notched up another pole and then translated his one-lap superiority into a pair of critically important race victories. Sunday's race followed the same basic pattern as Saturday's with Kelly controlling from the front while remaining precise and in command despite the application of intense pressure from close behind all the way to the checkered flag.
As a result, the Floridian now boasts a 21-point championship advantage on the strength of the five-race wins he's already earned in 2021.
"That was definitely a tough race… as if yesterday wasn't tough enough!" Kelly said. "I went out and tried my absolute best and gave my all. It was a great weekend. We got pole again, set the track record, and won both races. We have to be proud of the job we're doing. This feels amazing, but we just have to keep chipping away and keep our feet on the ground. Huge thank you to my M4 ECSTAR Suzuki team."
Kelly was joined on the podium on both days by Salvadoran Kevin Olmedo aboard his Team Hammer-built Altus Motorsports Suzuki GSX-R600.
SDK's M4 ECSTAR Suzuki teammate Sam Lochoff logged a pair of fourths to add to his impressive rookie MotoAmerica Supersport campaign. As good as that was, the South African came painfully close to scoring a second-career Supersport podium on Sunday, holding down third position until a last-lap off-track excursion opened the door for Olmedo. Lochoff now sits in third place in the Supersport championship points standings.
Outside of Cameron Petersen adding a third-consecutive MotoAmerica Superbike podium on Saturday, the weekend was one to learn and move on from in the premier class category.
Petersen was solidly positioned to continue his podium streak to four on Sunday before a fluke occurrence, a rear wheel speed sensor failure, forced him to slow and eventually accept sixth position.
The round was even more difficult for Petersen's M4 ECSTAR Suzuki teammate, Bobby Fong, who struggled after crashing hard and destroying his 'A' bike during testing on Thursday. Due to lingering issues from his testing fall, Fong lost feeling in his hand during both races. The gritty Californian pushed to his maximum in the blisteringly hot conditions yet was only rewarded for his efforts with uncharacteristic seventh- and eighth-place results.
"We're trying," Fong said. "Obviously, we're trying our hardest over here. It's not like I forgot how to ride a motorcycle, and we're giving it our all. I don't give up, I don't quit. All the stars have to be aligned in Superbike racing, and we're going to give it our best at the next round."
Olmedo's Altus Motorsports Suzuki teammate Jake Lewis remains within eight points of the Stock 1000 championship lead after claiming a runner-up result aboard his Team Hammer-built GSX-R1000 on Saturday. Unfortunately, a Sunday DNF more than ate up the title padding he had accumulated, but that padding also sees him still within striking distance despite his Sunday misfortune. M4 ECSTAR Suzuki's Wyatt Farris finished ninth and eighth in the Stock 1000 races in Washington.
Team Hammer will remain on the West Coast for the upcoming MotoAmerica round at Weathertech Raceway Laguna Seca in beautiful Monterey, California, on July 9-11.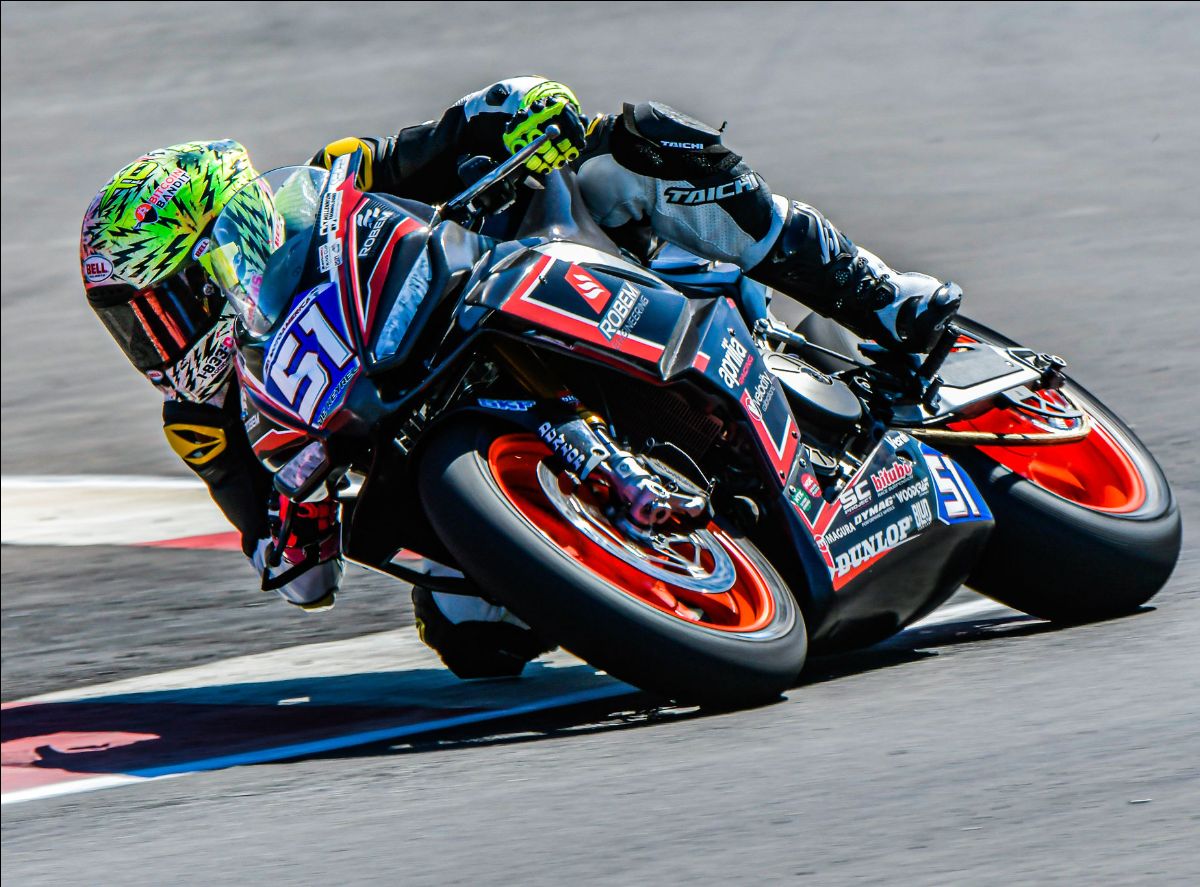 The following is from Robem Engineering…
After putting in a dominant performance at Road America two weeks ago, Robem Engineering rider Kaleb De Keyrel did enough at MotoAmerica's Superbikes at the Ridge round to stay atop the Twins Cup points standings. The Minnesotan persevered through brutally hot conditions at The Ridge Motorsports Park to score two podium finishes, which kept the Aprilia rider in the lead for the 2021 MotoAmerica Twins Cup title.
De Keyrel and both of his Robem Engineering teammates — Hayden Schultz and Toby Khamsouk — scored top-five finishes at the June 25-27 event aboard their Aprilia RS 660s, and Schultz and Khamsouk both moved up three places in the class standings. The results were hard-earned, as the riders and team had to contend with temperatures at or above 100 degrees for both races.
The team's first on-track session on The Ridge's recently repaved, 2.47-mile road course was Friday morning practice, which De Keyrel finished at the top of the time sheets. Schultz was the fifth-fastest rider in the session, and Khamsouk was eighth fastest. Twins Cup qualifying got underway later Friday, with De Keyrel finishing the qualifying session in second place, Schultz in sixth and Khamsouk in eighth.
Qualifying wrapped up Saturday morning with all three Robem Engineering riders having secured top-five places on the weekend's starting grid. De Keyrel led the team's qualifying effort, finishing third and securing a spot on the front row of the grid. His teammates were line-a-stern behind him, with Schultz nabbing fourth place and Khamsouk claiming fifth place.
In Saturday's Twins Cup race, De Keyrel and Schultz both got good starts and were in the mix for a podium or better early in the race. Schultz unfortunately had slid down the running order to fifth place by the end of Lap 3, but De Keyrel briefly the lead of the race in the early laps before being passed by another rider. When the race leader crashed out on Lap 7, De Keyrel found himself leading the field again until the penultimate lap. He was passed by another rider at the track's very tight and slow Turn 13 and did his best to get back into the lead, but had to settle for a hard-fought runner-up finish. Khamsouk crossed the finish line behind De Keyrel in fourth place, and Schultz's fifth place made it three Robem Engineering riders in the top five.
Sunday's race saw Robem Engineering riders score two more top-five finishes. All three riders got away well when the lights went out. Schultz showed strong pace early, finishing the first lap in third place. However, Schultz and another rider made an error under braking heading into Turn 13 on Lap 2, which allowed De Keyrel to move up from fourth to second in one corner. De Keyrel was passed by another rider on Lap 5 and dropped to third place but was able to maintain consistent pace and scored his second podium finish of the event. Schultz had the pace to stay with De Keyrel but wasn't able to challenge him for a podium and claimed a fourth-place finish. Khamsouk recovered from a mistake in the early laps of the race to finish seventh.
The team has a weekend off before it's back in action at the next round of the MotoAmerica season, which is scheduled for July 9-11 at WeatherTech Raceway Laguna Seca in Monterey, Calif.
Kaleb De Keyrel / No. 51
"Overall, it was a positive weekend. We're still leading the championship, and I feel like I gave it 100 percent every time I hit the track. We struggled with grip due to the hot conditions and – with sliding around a bit – I just didn't have the confidence in my bike that I needed to win. We overcame a lot and learned a lot. This track is a lot smaller and tighter than the other tracks we race at, but we learned more about our Aprilia every time we hit the track. This round taught me a lot about tire management in the heat. I'm really looking forward to the next round at Laguna Seca. It's one of my favorite tracks, and I think we take a lot of what we learned this weekend and apply it there."
Hayden Schultz / No. 49
"It was a hot weekend in Washington, but we got some solid results. I was aiming for a podium this weekend but fell a little short of that. In Race 1, we had some trouble adapting our setup to the ridiculously high track temperatures, but the team made some big changes for Race 2 and we much better pace on Sunday. A big thanks to the entire Robem Engineering crew for helping me bounce back on Sunday. Overall, I'm happy with the progress we made, and we got some positive momentum going here that we'll carry into the next round at Laguna Seca."
Toby Khamsouk / No. 27
"I got a bad start in Race 1 but worked my way back up to fourth place. In Race 2, I got a good start off the line, but made a mistake in Turn 13, which caused me to lose touch with a front group. I'm looking for some positive vibes for Laguna Seca, which is my home race."
Robem Engineering's technical partners for 2021 include Aprilia Racing, Piaggio Group Americas, The Center for Plastic Surgery, Velocity Calibrations, Bitubo Suspension, Dunlop, Woodcraft Technologies, Dymag, Vesrah, DNA Filters, Magura USA, Sara Chappell Photos, NGK/NTK, Blud Lubricants, Millennium Technologies and SC-Project.
The following is from Pure Attitude Racing…
The Pure Attitude Racing team were back in action in the latest round of the MotoAmerica Championship at The Ridge Motorsports Park near Shelton, Washington this past weekend, with once again their riders Austin Miller, Nate Minster (Supersport) and Liam MacDonald (Twins Cup), adding multiple championship points to each of their respective tallies this season.
With double races for each category and with temperatures soaring to 117 degrees on Sunday, the on-track action was intense.
Liam MacDonald, the team's sole representative in Twins Cup following Trevor Standish's spill last time out at Road America, once again found himself inside the Top Ten in Race 2, after running close to the Top Six throughout Free Practice earlier in the weekend. Race 1 sadly saw Liam record his first DNF of the season, the Kiwi, struggling to overcome an intermittent gear change issue that the team resolved for Sunday's second encounter. Despite the obvious frustration, Liam remains ninth overall in the overall standings, well in contention for the Top Six with numerous races remaining.
In Supersport, Saturday's race saw another double point scoring ride from Nate Minster and Austin Miller. Minster raced hard to record his third Top Ten finish of the season, whilst Austin Miller rode the race of his short MotoAmerica Supersport career to finish an impressive eleventh at the flag – his best result in the category to date. Sunday saw both riders running inside the points once again until the #61 slid out of contention. He would remount to finish twentieth, with Minster adding an additional two points to his 2021 scorecard in fourteenth.
The team move next to the WeatherTech Raceway at Laguna Seca in California in a fortnight for Round 5 eager to build on their continued successes.
The following is from Yamaha…
After a great result on Saturday, the Fresh N' Lean Attack Performance Yamaha Racing team upped the ante with an even more dominant performance in today's MotoAmerica Superbike race two at The Ridge Motorsports Park. Jake Gagne continues to stretch his lead in the championship, scoring his seventh-straight victory this season. Josh Herrin found his stride on another hot day in Shelton, Washington, finishing comfortably in second for another 1-2 finish for the team.
Lining up 1-2, based on yesterday's results, the Fresh N' Lean Attack Performance Yamaha Racing duo got a great start, with both gunning for the holeshot. Herrin tried to go around the outside in Turn 1, but Gagne came out on top. He then tried to pull off another disappearing act and set the fastest lap of the race on Lap 2, a 1:40.979. Herrin was putting in some fast times as well and kept the series points leader in sight for the first half of the race.
In the end, Gagne remained untouchable, steadily growing his gap to finish with a 5.6-second lead and extending his lead in the standings to 44 points. Herrin went on to score his second runner-up finish of the weekend, this time with a healthy gap on the competition to complete a stellar weekend for the team. The Californian leaves Washington third in the standings and closed the double-digit gap on second to eight points.
The Fresh N' Lean Attack Performance Yamaha Racing Team heads south in two weeks' time for Round 5 of the MotoAmerica Superbike Championship at WeatherTech Raceway Laguna Seca in Monterey, California, on July 9-11.
Richard Stanboli – Fresh N' Lean Attack Performance Yamaha Racing Team Manager
"Like I said yesterday, our R1s do well in the heat, and we were able to repeat another 1-2 finish. We are looking forward to Laguna Seca. Josh has the track record there and is feeling really good, and Jake is riding great, so it should be a great weekend. Hopefully, we can make a good show for the fans."
Jake Gagne – Fresh N' Lean Attack Performance Yamaha Racing
"We learned a lot from yesterday's race and made some changes and made the bike a little bit easier to ride. We knew everybody would step it up today even though we had a little bit more heat out there. I just have to say, hats off to the entire Fresh N' Lean Attack Yamaha team. We had a great race yesterday, but these guys still push; we still want to go faster every single time. Josh tried to roll around the outside of me into one, I saw that, and I was like, 'man, let's go!' I put my head down for a couple of laps and got a tiny bit of a cushion and just ran with it."
Josh Herrin – Fresh N' Lean Attack Performance Yamaha Racing
"It's been such a great weekend! This season's been really tough, but we've been putting in a lot of work, and we finally got our mojo back, and I'm riding like myself again. I have to give a huge thanks to the entire team for all of their hard work and also to Josh Hayes for helping turn my year around with the amazing coaching!
"I'm so appreciative of everybody on the team. They've stuck behind me when I was bummed out. We've just got to get to the level that Jake's at right now. He's just got that little bit at the beginning of the race, and today, I struggled in the middle of the race with the heat. I need to figure out how to get that one-lap pace back that I used to have at the beginning of the race, and I'll be right there. I'm really looking forward to Laguna!"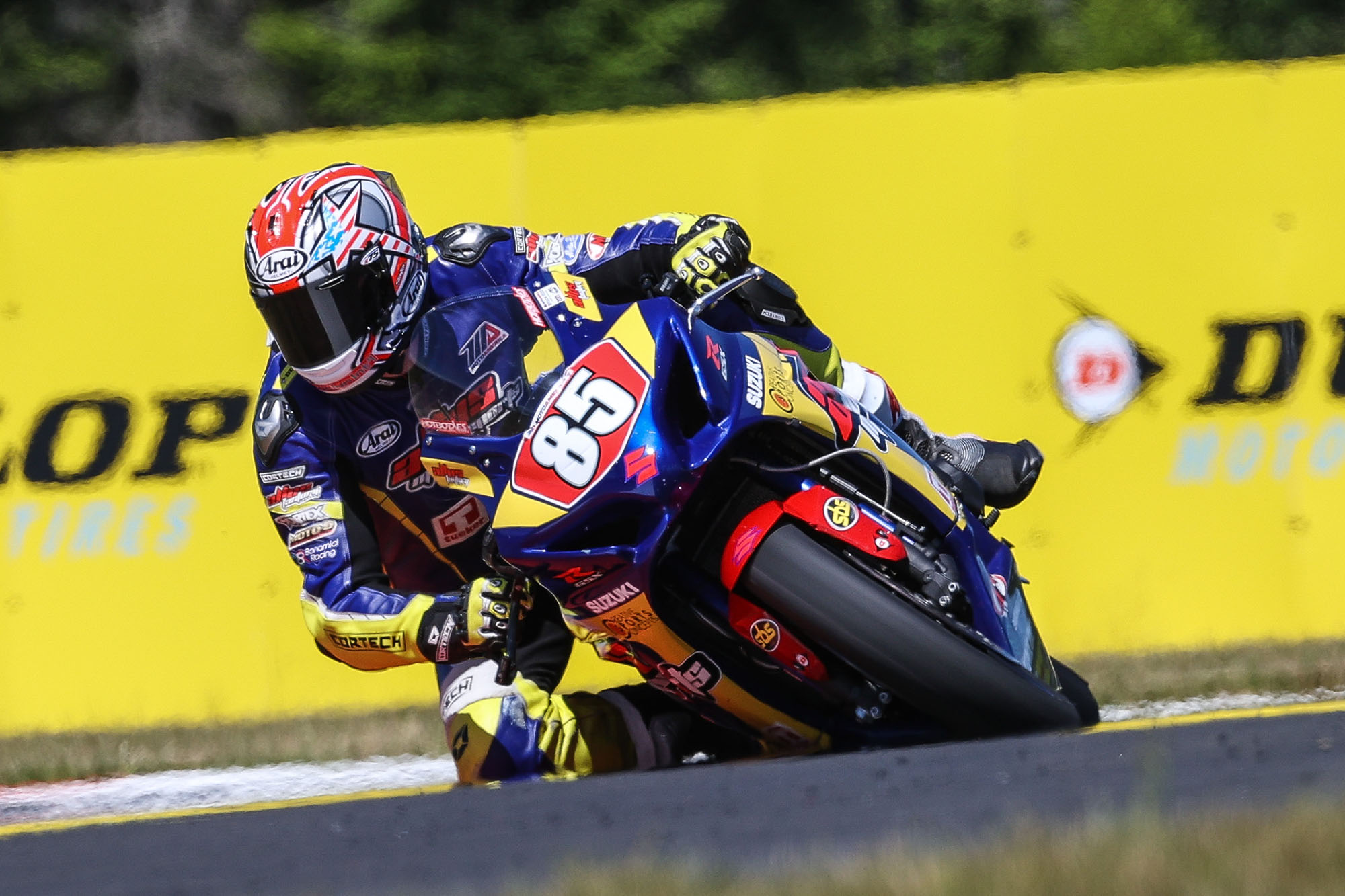 The following is from Altus Motorsports…
A record-breaking heatwave hit the Pacific Northwest just as the MotoAmerica teams rolled into the pits at Ridge Motorsports Park in Shelton, Washington. With temperatures well over 100 degrees, it was an extremely hot weekend for racing. Dunlop hosted a tire test at Ridge on the Thursday before the event and the Altus team was there to gather data and continue learning the highly technical track.
HONOS Superbike & Stock 1000:
After missing the 2020 race season, Jake Lewis arrived in Washington with no experience on the technical Ridge Motorsports Park track. The team struggled to find a good setup during the Dunlop tire on Thursday and in the practice and qualifying sessions on Friday. Due to a change by MotoAmerica, the top Stock 1000 riders practiced and qualified with the Superbike class this weekend. On Saturday, the team found something and in Jake's second qualifying session, he ran the fastest Stock 1000 lap and secured pole position for those races.
In Race 1 of the Stock 1000 class, Jake got a great start and pulled a small gap. Unfortunately, in the heat, his rear tire had rotated 180 degrees on the rim making the bike difficult to ride. With two laps to go, he dropped to 2nd and held that spot to the finish. Lewis also got a great start on Sunday but a mechanical on the first lap forced him to retire from the race.
"We had a minor mechanical issue at the start of the Sunday Stock 1000 race. If it wasn't for Jake's experience and quick thinking, it could have been much worse," said Crew Chief Eric Gray.
Lewis also contested the Superbike class and started both races from 9th. In Race 1, he finished 9th and second in the Superbike Cup. In the Sunday race, he finished 14th overall and as the 4th Superbike Cup bike.
Supersport 600:
Jaret Nassaney came out with the team for the pre-race weekend tire test. He spent the time dialing in his setup. Jaret started both races from 11th. He finished Saturday in 8th and Sunday in 9th.
"It was a really good weekend. We survived the heat and got some good results. We have a solid base setup for the rest of the season," said Jaret Nassaney.
The Ridge was Kevin Olmedo's second event back with the team after his shoulder surgery. The benefits of the additional recovery time showed from the first session. Kevin was in the top 4 in every session and qualified 3rd. In the Saturday race, he held third from start to finish. In the Sunday race, he ran in fourth for most of the race but, on the penultimate lap, made a pass to take third. He finished the weekend with two podiums.
"I feel really happy with these two podiums. I will continue to work on the strength in my shoulder and show up even stronger at Laguna," said Kevin Olmedo.
Junior Cup:
It was Hayden Bicknese's first trip to Ridge Motorsports Park but he adapted to the technical track quickly. He was P6 after the first qualifying session and ended up qualifying P9. Unfortunately, he was forced to retire from Race 1 with a mechanical issue. In race 2, an unfortunate crash on lap 5 ended Hayden's weekend with a second DNF.
"Those were some of the toughest conditions our team has had to work through. The heat was brutal and I appreciate the incredible effort they put in," said team owner George Nassaney.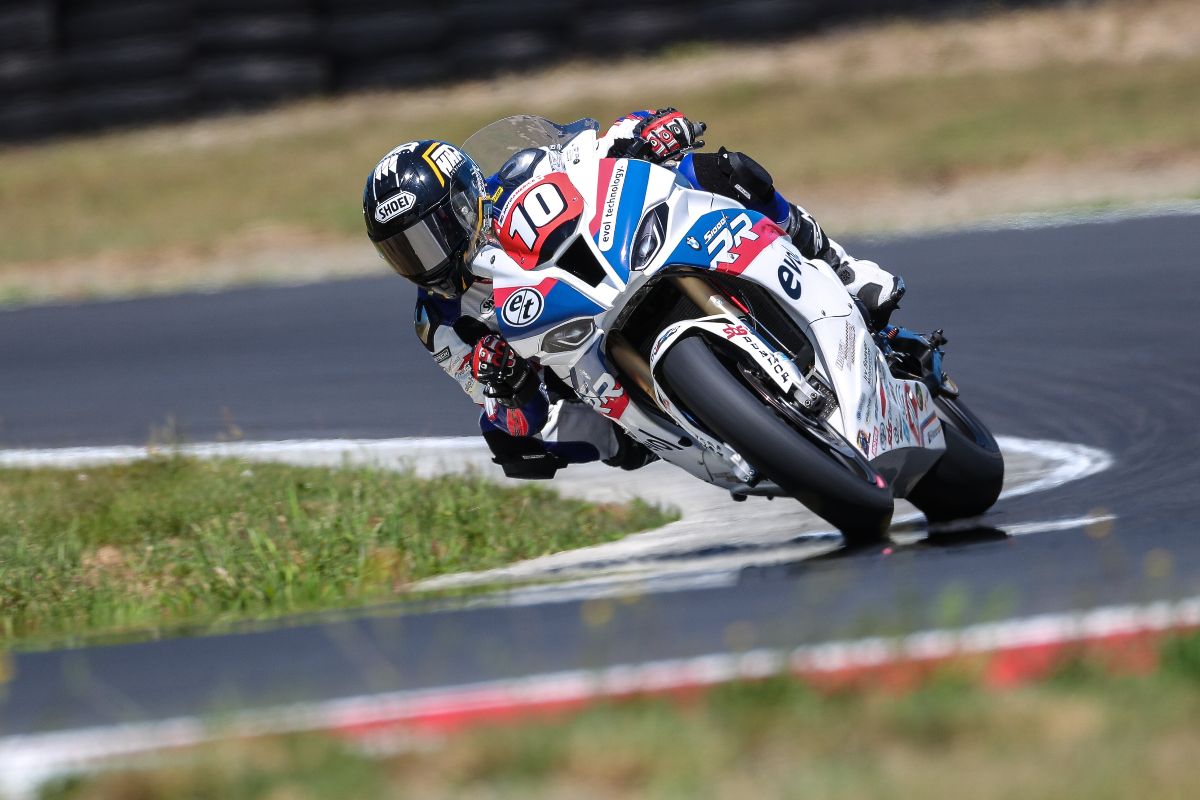 The following is from Travis Wyman Racing…
There were plenty of setbacks for the Travis Wyman Racing BMW team at MotoAmerica's Superbikes at the Ridge, yet the team found ways to overcome several technical problems and the brutally hot conditions to score a podium finish and remain atop the Superbike Cup standings.

The Las Vegas rider endured a rear tire problem and engine overheating issues with his BMW S 1000 RR on Saturday but finished the June 25-27 event at The Ridge Motorsports Park with a third place in Sunday's Stock 1000 race and second-best finish among the Superbike Cup riders in Sunday's Superbike race.

Wyman left The Ridge with a six-point lead in the MotoAmerica Superbike Cup points standings and is fourth in the battle for the Stock 1000 title.

Wyman and the other top four riders in the Superbike Cup practiced and qualified with the Superbike Class at The Ridge round. Wyman posted a best time of 1:44.120 in Superbike practice on Friday, which was the second-fastest time among the Superbike Cup riders and the 11th-best time when compared to the Superbike riders. Later Friday, Wyman finished the day's qualifying session 10th with a time of 1:44.133.

Qualifying concluded Saturday morning with Wyman securing second on the weekend's Stock 1000 starting grid with a lap time of 1:42.881.

The first of four races Wyman took part in — in searing 100 degree or higher temperatures — was Saturday's Stock 1000 race. After getting a mediocre start, Wyman recovered to finish the first lap in fourth place. However, a problem with his rear tire affected his BMW's handling and its ability to get good drive out of corners. After a near-highside as he exited the track's last turn, Wyman dropped as low as eighth in the running order. He moved up one position on Lap 8 but had to settle for a seventh-place finish while running lap times about a second slower than the race leaders.

In the Saturday Superbike race, Wyman's fast pace was brought to a halt by a problem with his motorcycle's cooling system. Starting from 12th, Wyman had worked his way up to ninth place in two laps but had to retire from the race on Lap 4 when water began spraying from his BMW's catch can.
The team worked on ways to keep Wyman's BMW running cooler Saturday night, and its efforts proved worthwhile Sunday. In the day's Stock 1000 race, Wyman recovered from dropping to fifth place at the end of Lap 1 to scoring his third podium finish of the 2021 Stock 1000 season. Later Sunday, Wyman got a good start in the Superbike race and brought his BMW home in 11th place, the second-best finish among the Superbike Cup riders.

The Travis Wyman Racing BMW team has two weeks to freshen up the team's BMW S 1000 RR before it heads to the next MotoAmerica round, which is slated for July 9-11 at WeatherTech Raceway Laguna Seca in Monterey, Calif.
Travis Wyman / No. 10
"It was a pretty frustrating weekend at The Ridge, but the good results I got on Sunday — especially the podium in Stock 1000 — made the struggle worthwhile. I've taught at racetracks around the world and can say the conditions were some of the hottest I've endured in my racing career. My crew chief, Steve Weir, and mechanic, Alex Torres, did an outstanding job this weekend, and we wouldn't have found the success we did on Sunday without the hard work they put in Saturday night. I owe a big thank you to Steve Korol of Evol Technology LLC for being my team's title sponsor for the Ridge, and it's great to be nearing the halfway point of the season and still be in the mix for two class titles. There's still a lot of racing left to go this year, and what we overcame here at the Ridge gives the team a lot of positive momentum heading into the next round at Laguna Seca."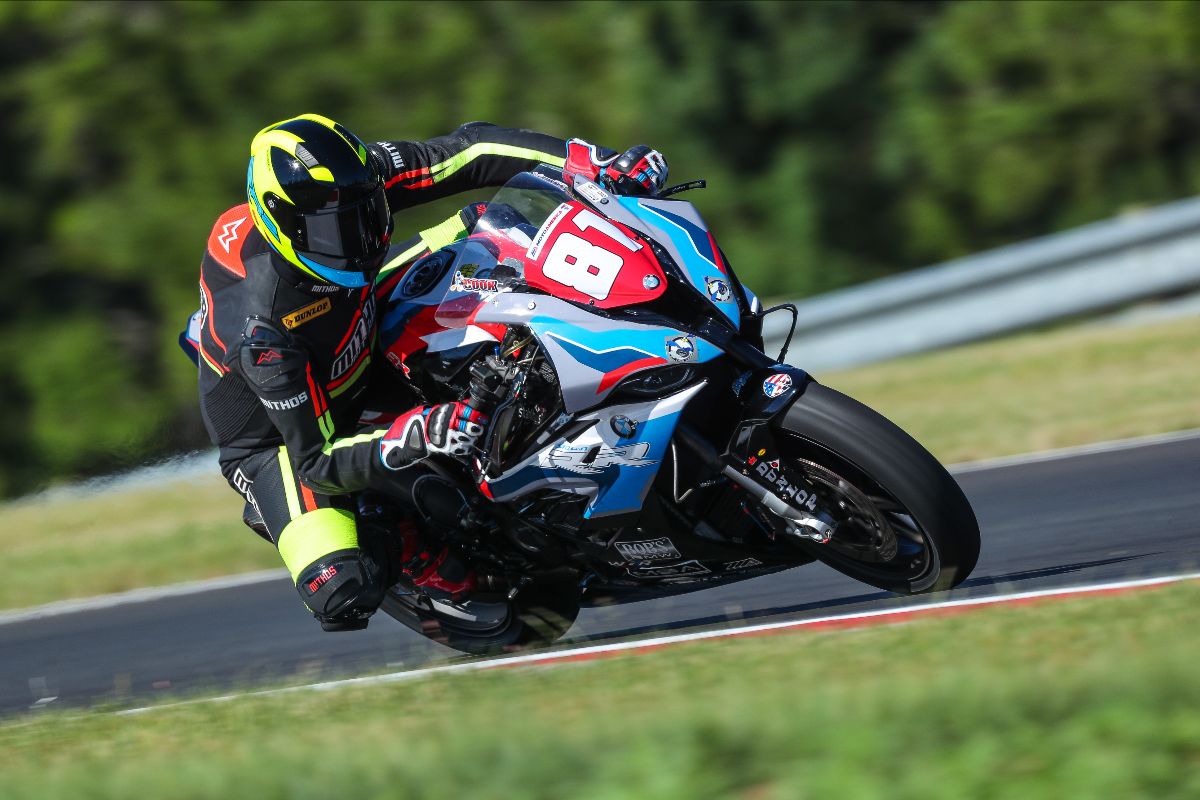 The following is from Jeremy Cook Racing…
As MotoAmerica veteran Jeremy Cook boarded a plane Thursday heading from his home city of Baltimore, Md., to Seattle, the BMW rider hoped his trip wouldn't be in vain. Just two weeks after suffering multiple injuries in a crash at MotoAmerica's Superbikes at Road America and days after having his shattered collarbone surgically repaired, Cook wasn't sure if he'd be medically cleared to race at MotoAmerica's round on June 25-27 at The Ridge Motorsports Park.
 
In the end, Cook was cleared to race and led his team of U.S. Marines veterans to two 16th-place finishes in the weekend's MotoAmerica Stock 1000 races aboard his BMW S 1000 RR. Just making it to the end of each 13-lap race in brutally hot and humid conditions was a challenge for the ailing Cook, but the former Marine saw the mission through and hopes to be back to better form at the next MotoAmerica round in two weeks time.
 
It was Cook's first time racing at The Ridge Motorsports Park. He took part in a track day event at the facility in May thanks to support from South Sound Motorcycles — a BMW dealership in Tacoma, Wash.
 
Cook sat out the test day on Thursday and both Stock 1000 Class on-track sessions on Friday. He finished Saturday morning's qualifying session in 17th.
 
Though he was far from 100 percent healthy, Cook finished both of the weekend's races higher in the running order than he started. Cook started 20nd on the grid for Saturday afternoon's race, and attrition farther up the field and a late-race pass allowed Cook to finish in 16th — one position away from scoring a championship point. Cook also improved his pace around the 2.47-mile road course on Saturday, posting a best lap time of 1:49.513 in Race 1 compared to the 1:50.933 he laid down in qualifying.
 
In Sunday's Stock 1000 contest, Cook started from 21st but had moved up to 18th by the end of Lap 1 and 17th by the end of Lap 5. Cook again made a move late in the race to gain another position and claimed his second 16th-place finish of the weekend. He again improved his pace, lowering his best lap time of the weekend to a 1:48.593.
 
Cook's team for the weekend included U.S. Marine veteran and Motorcycle Xcitement rider coach Dakari Harris and U.S. Marine veteran Don Williams – a participant in the Veterans Empowered through Motorsports program.
 
Cook has two weeks to heal up before he's due back on the MotoAmerica grid. The next round takes place July 9-11 at the home of the famed "Corkscrew" turn, WeatherTech Raceway Laguna Seca in Monterey, Calif.
 
Jeremy Cook / No. 81
 
"I wasn't even sure if I could make it through both races with all the injuries I am dealing with right now, and just seeing the checkered flag in both races was like a small victory. I just took it one day at a time and tried to not push myself too hard, as we're not even halfway through the season yet. I was really happy with how much my lap times improved from Saturday to Sunday, given that I'm eight days out from having had my collarbone pinned back together. It also was great to have a team of Marine vets helping me out this weekend, and it was a pleasure having Don join the team for this round thanks to Veterans Empowered through Motorsports.  He did a great job and I'm looking forward to having more fellow Marine veterans be part of the team in the future. I think what the team and I accomplished this weekend shows what Marine vets are capable of!"
The following is from Ethan Cook Racing…
Ethan Cook may have left The Ridge Motorsports Park in Washington State with a double DNF but the Wrench Motorsport rider once again showed his riding talents in both thirteen lap encounters.
A new venue for the youngster in his debut season of MotoAmerica competition, Cook quickly learned the 2.47 mile undulating circuit, qualifying ninth, before running inside the top six on Saturday. He was well inside the top ten on Sunday too but unfortunately suffered a second spill in as many days. 
 
Crashes aside, Cook now heads to the iconic Laguna Seca circuit in California, eager to tackle the Corkscrew, and add to his impressive points tally so far this season. 
Ethan Cook: "I qualified well and was really confident for the races. Riding on Thursday made a big difference and really helped me to be closer to the front when it counted. I made a terrible start in Race one and got swamped. I was able to recover and was running inside the top six when I went down. I was understandably frustrated and annoyed but I knew that we had another bit of the cherry on Sunday. Race two was going pretty good until I crashed again. I made a good start and was running inside the top eight and enjoying the battle. It's certainly more fun racing in a group than on your own. I was able to post my best lap of the weekend but then sadly I lost the front. It's a bummer but we are making improvements and the team have given me a great bike. I'm sorry to them for going down again but that's racing and we move to Laguna ready to fight again."